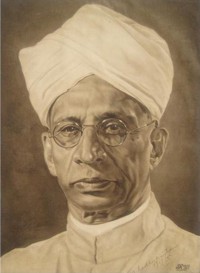 Lifetime
Born:
1888
Passed away:
1975
About
Dr. Sarvepalli Radhakrishnan (Telugu: సర్వేపల్లి రాధాకృష్ణ, September 5, 1888 – April 17, 1975) was an Indian philosopher and statesman. He was the first Vice-President of India (1952–1962) and subsequently the second President of India (1962–1967).
Being one of India's most influential scholars of comparative religion and philosophy, Radhakrishnan is thought of as having built a bridge between the East and the West by showing that the philosophical systems of each tradition are comprehensible within the terms of the other.

He wrote authoritative exegeses of India's religious and philosophical literature for the English speaking world. His academic appointments included the King George V Chair of Mental and Moral Science at the University of Calcutta (1921–?) and Spalding Professor of Eastern Religions and Ethics at Oxford University (1936–1952).

Among the many honours he received were a knighthood (1931), the Bharat Ratna (1954) and the Order of Merit in 1963. His birthday is celebrated in India as Teacher's Day on 5th September.