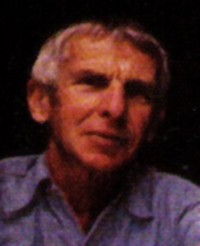 Lifetime
Born:
1922
Passed away:
2001
About
Kurt Titze - A Portrait of the Author
It was while he was working on the conveyor-belt of an australian car factory in the 50's, that Kurt Titze, born 1922 in a lower silesian village, discovered the talent which everyone is born with, namely, that it is possible to do two completely different things at the same time. After a couple of weeks, when his hands had learnt to perform the repetitive movements to the satisfaction of the inspectors, his thoughts were at the same time free to to reflect over things which he had read the evening before about Socrates, or what this or the other philosophical radio program had intended to put across.
A new phase of his life began: That which had to be done – earning his living -, could be combined without any losses with that which his head liked to do best: thinking. Fertile years followed.
The widely believed hypothesis, that boring, manual work dulls the senses, was obviously a predjudice. This was not really a new idea, the philosopher Spinoza who lived in Holland and died in 1677, refused the position of Professor at the University of Heidelberg in order to make his living grinding glass lenses.
While working on the conveyor-belt, Kurt Titze first began to compose letters in reply to articles he had read that morning in the newpaper and type them up after work in the evening, posting them to the local newspaper. The editor was an open, tolerant person who printed the first literary attempts of the immigrant.
Not only that which others had already thought about "God and the world", but also ones own thoughts on the subject, must be measured against reality. For our author, realizing this meant, that his expectations on the earth and his fellow creatures should be reduced to an acceptable minimum and travelling by the cheapest means possible to other countries and to other religions and people (he has an australian passport since 1961).
These were mainly the South- and Southeast Asian countries. In 1968 a Munich publishers brought out the first report with text and pictures, of his long journey around the islands of Southeast Asia, titled Bali, Timor, Phillipines (2nd edition 1978, now out of print).
After a stay at a buddhist monastery in northern Thailand, it was the teachings of Buddha which gave him new understanding. A small book with the title Buddha- How he lived, what he taught and what he didn't teach, was published by a Thai publisher as a critcism of the then incroaching sex tourism in 1977, together in the same year with his book Christians in Asia – A Report on a Pilgrimage (Publishers: Spee Verlag Trier), in which he describes, in words and pictures, his meeting with Christians in Japan, South Korea, Macau, the Philippines, Malakka und India.
During his journey of several months the author lernt that as a stranger, he was welcome everywhere. Misanthropy springs up as a rule - but not always - where a large number of strangers become our 'neighbours' (it is worth remembering that Jesus didn't say "love the stranger", but "love thy neighbour as thyself". Obviously this has always been the more urgent commandment).

And then in 1988, in Shravanbelagola, south India, as our former conveyor-belt worker and his travelling companion (who in the meantime had become his spouse), sat at the feet of a naked Jaina monk and watched him as he plucked out his beard and the hair of his head (which was something that these monks do about three times a year) without any expression, he knew that he would have to occupy himself with this unjustly ignored religion of non-violence.
If for no other reason than to do something against the actual violence which was being propagated by the media and becoming normality.
The first result of his new studies was a paper-back titled, No Violence towards Man, Animal or Plant - Words of the Preparer of the Way, Mahavira, which was published in 1993 by the Berlin publishing house, Clemens Zerling and from which, a few years later, three chapters were to be printed for a teaching manual for Ethical Studies for grammar schools, published by Dr. Georg Bubolz und Ursula Tietz, Patmos Verlag, Düsseldorf.
A short while ago – at the end of 1998 – the indian publishers, Motilal Banarsidass, released a large-format book by Kurt Titze, with the title Jainism – A Pictorial Guide to the Religion of Non-Violence. This is a fitting contribution to the festivities of the non-violent Jaina which will take place in the year 2001, on the 2600th aniversary of the birth of Mahavira, their last prophet of the present age.
Until summer 2000 Kurt Tize lived with his wife in the village Bellamont, upper Swabia.
Since quite some time Martha and Kurt Titze had decided to go back to the country of Kurt's choice, to Australia. But in a short time after their arrival in Australia a non-curable disease was revealed to Kurt Titze.
On January 11th, after a rich life of wandering our friend went to his last trip to a world we yet don't know, but Kurt Titze was talking on quite often as we have learned from his wife who stayed at his side till his last breathe.
We feel very sad at the lost of our friend who was full of the joys of life and a very pleasant and modest person. He understood himself as a mediator between different cultures and felt at home in the whole world. He had united the capability of man to work with his hands as well as with his mind. His attitude made him everywhere a most welcome guest.
We will not forget him.