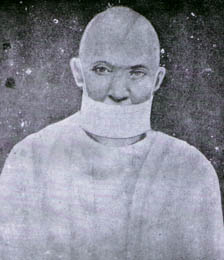 Lifetime
Born:
31.08.1855, Jaipur
Passed away:
1897, Sujangarh
Terapanth Info
Diksha:
20.03.1872, Ladnun by Acharya Jeetmal
About
6. Terapanth Acharya
---
Profile by TerpanthOnline.com:

Acharya Shree Manaklalji




Date of Birth
V. S. 1912. Bhadrakrishna Chaturti.
Place of Birth
Jaipur Dhundad
Father's Name
Hukmichandji
Mother's Name
Chotanji
Marital Status
Unmarried
Gotra
Ravad (Shrimal)
Caste
Beesa Oswal
Date Of Diksha
V. S. 1928 Phulgun. Shukla Eakadashi
Diksha By
A. Shri Jeetmalji
Place of Diksha
Ladnun
Teacher (Guru)
A. Shri Jeetmal ji.
Appointment of Successor and Place (Yuvacharya)
V. S. 1949. Chaitra Krishna Dwitiya. Sardarsahar
Appointment as Acharya and Place
V. S. 1949.Chaitra Krishna Ashtami. Sardarsahar
Number of Sadhu & Sadhvi at the time of appointment as Acharya
Sadhu: 71 Sadhvi: 193
New Diksha of Sadhu & Sadhvis during Acharya period.
Sadhu: 15 Sadhvi:25
Date of passing away (Devlok)
V. S. 1954. Kartik Krishna Tritiya(Sujangad). 1 Muhurta more.
Number of Maryada Mohotsav
4
Tenure as Acharya
4 years and 7 Months
Maximum Chaturmas
One in each place
No of Sadhu & Sadhvi at the time of passing away.
Sadhu: 72 Sadhvi: 194
Sadhvi Pramukha during Acharya period
Sadhvi Navalaji.