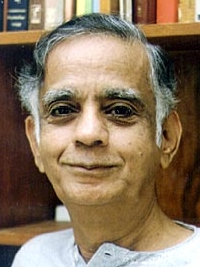 Lifetime
Born:
1930
Address
B-1, Narumukai Apartments, 2nd Street, Brindavan Nagar Extension, Adambakkam
600 088 Chennai, India
About
Indian epigraphist, specializing on the Indus script and Early Tamil epigraphy.

Biography
Iravatham Mahadevan was born in 1930 in a Smartha Tamil Brahmin family of Thanjavur district. He was born in British Burma where his father Iravatham was practising as a doctor.

Mahadevan was educated in the town of Tiruchirapalli. After graduating in Science and Law, he joined Indian Administrative Service.

Mahadevan deciphered the earliest Tamil-Brahmi inscriptions, and has tentatively suggested a derivation of Brahmi from the Indus script rather than the conventional hypothesis which derives Brahmi from the Aramaic script.
Awards and honors
Iravatham Mahadevan was awarded the Jawaharlal Nehru Fellowship in 1970 for his research in Indus script and the National Fellowship of the Indian Council of Historical Research in 1992 for his work on Tamil-Brahmi inscriptions.

In 1998, he was elected the president of the Annual Congress of the Epigraphical Society of India and in 2001 he became the general president of the Indian History Congress. He received the Padma Shri award from the Government of India in 2009 for arts.
Publications
Corpus of Tamil-Brahmi inscriptions (1966)

The Indus Script: Texts, Concordance and Tables (1977)

Early Tamil Epigraphy : From the Earliest Times to the Sixth Century A.D. (Harvard Oriental Series 62) (2003)