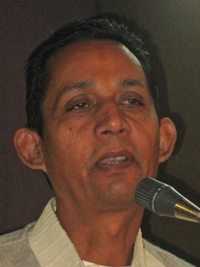 About
M.Sc, Ph.D., D.N.Sc, Dip.Yoga
Registrar, JVBU, Ladnun
Head Deptt. of Science of Living, Preksha Meditation and Yoga
Professor J. P. N. Mishra is from a traditional Hindu family of Ambedkar Nagar, Uttar Pradesh. After graduating from Lucknow University, Lucknow he completed his Ph.D. degree in Applied Human Physiology from Banaras Hindu University, Varanasi in 1982.
Thereafter he worked as Research Scientist at Jawaharlal Nehru University and All India Institute of Medical Sciences, New Delhi for more than eight years.
Professor Mishra joined Jain Vishva Bharati University, Ladnun as Assistant Professor in 1991 as the founder faculty member of the Department of Science of Living, Preksha Meditation and Yoga.
Currently he is holding dual charge of Professor of Science of Living, PM and Yoga and Registrar of JVBU, Ladnun.
He has 10 books, 84 research articles in National and International Journals and more than 120 popular health articles in various magazines to his credit. He has participated in more than 125 International workshops/seminars/conferences as a resource person and invited speaker.
Professor Mishra has received several awards including prestigious UGC National Research Award, 2007.
He has travelled several countries like Thailand, Singapore, Malaysia, China, Australia, New Zealand to deliver lectures on Yoga-Meditation Therapy and Human Physiology, Sleep and Consciousness.
Professor Mishra is also a panel member of UGC and several universities subject expert committee in Yogic Sciences.
His area of specialization is Human Physiology, Preksha Meditation and Yoga, Sleep, Consciousness, Stress Management and Health Promotion through Yoga and Meditation.