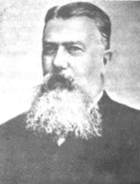 1837-1898
Georg Buehler spent almost half of his academic career in India. He collected manuscripts and deciphered inscriptions. He also wrote on Indian law. His contributions in this field have become standard works.
Johann Georg Buehler, son of a clergyman, was born on 19.7.1837 at Borstel near Nienburg, Hannover. He studied Greek, Latin, Sanskrit, Zend, German, Persian, Armenian, Arabic, archaeology and philosophy at Goettingen University. His Sanskrit guru, T. Benfey, considered him to be his most promising student. Buehler obtained a doctorate in 1858 for his thesis on Greek linguistics. From 1859 to 1862 he stayed in London as a private tutor. Later he was assistant to the librarian of Queen Victoria at Windsor Castle. After a brief term at the Goettingen University library, he was nominated Professor of Oriental languages at Elphinstone College, Bombay, in 1863. Here he taught Sanskrit, Prakrit, comparative linguistics and Latin. He also studied Sanskrit with a pundit and was soon able to speak this language fluently. He was sent on a research tour to Southern Maratha and Kanara country in the cool seasons of 1866-69. In 1868, he was promoted to the post of Educational Inspector of Gujarat and Officer in Charge of search for Sanskrit manuscripts in Bombay Presidency. On account of ill health he was pensioned in 1880. After recovery, he accepted a professorship of Indian philology and archaeology in Wien in the same year. He held this post until his death on 8.4.1898.
The first articles written by Buehler related to comparative philology and Vedic mythology. While in England, he compiled an index to Max Mueller's "History of Indian Literature."
When Buehler was professor at Elphinstone College, Bombay he found that Sanskrit texts for the use of students were needed. F. Kielhorn and Buehler were, therefore, appointed as editors and the Bomaby Sanskrit Series was started by them. Buehler edited some books of the Panchatantra and the first part of the Dasakumaracharita in this series.
Buehler's travels in search of manuscripts began in 1866 and occupied him for years to come. A report of the Department of Public Instruction of the Bombay Presidency says: "By conversing fluently in the Sanskrit language with Brahman Shastris at the various places he visited, he succeeded to a great extent in inspiring confidence and in allaying the prejudices of persons who were at first unwilling to show their sacred volumes to an European." Buehler was the first foreigner to be allowed to examine the library at Jaisalmer in Rajasthan. There, he found Jain manuscripts and secular literature. He was very happy to note the great antiquity of his discoveries. These scripts later formed the basis of the work done by A. Weber, H. Jacobi and E. Leumann.
The general results of Buehler's search for manuscripts are found in numerous Government Reports and Catalogues, e.g., in his "Catalogue of Sanskrit Manuscripts contained in the private Libraries of Guzerat, Kathiawad, Kachch, Sind and Khandes", published between 1871 and 1873 in the Annual Reports of the Royal Asiatic Society and in the Journal of the German Oriental Society. Buehler's Detailed Report on a Tour in Search of Sanskrit Manuscripts in Kashmir, Rajputana and Central India, Bombay 1877, gave details about hitherto unknown authors and their works. Among them was Ksemendra, the Kashmir poet and polyhistorian whose works are important for the study of the history of literature and the epics.
Buehler, being interested in history, set out to find chronological data in inscriptions. His results were published in the Indian Antiquary, Epigraphia Indica, and other journals. In a paper Die indischen Inschriften und das Alter der indischen Kunstpoesie ("Indian Inscriptions and the Age of Kavya Literature") in the Proceedings of the Vienna Academy, 1890, he showed that inscriptions proved Kavya literature to be older than had hitherto been assumed by Western scholars. Buehler argued that Kavya literature must have developed before the beginning of the Christian era.
Buehler also contributed to the history of religions. He submitted a paper Die indische Sekte der Jaina to the Vienna Academy, 1887. In the article Ueber das Leben des Jaina Moenchs Hemachandra, 1889, he gave an account of Jain monk Hemchandra who was also a grammarian and lexico­grapher. The main aim of Buehler's occupation with epigraphy was to study the political history of India and he spent much time and patience in the decipherment of the edicts of King Ashoka. He edited the Vikraman-kadevacharita, a chronicle composed by the Jaina Bilhana in the Bombay Sanskrit Series. He discussed Rajatarangini, the chronicles of the kings of Kashmir. His plan of writing a complete history of India could not be carried out on account of his early death.
Buehler wrote an essay On the Origin of the Indian Brahmi Alphabet. Its revised edition, 1898, contained two appendices on the origin of the Karoshthi alphabet and the letter-numerals of Brahmi. He contributed a treatise on Indian palaeography to the "Encyclopedia of Indo-Aryan Research."
Indian Law was the second field of studies in which Buehler did pioneering work. Together with Judge Sir Raymond West he published the Digest of Hindu Law of Inheritance, Partition and Adoption, third edition, 1884. In 1868 and 1871 he published a critical edition of the Aphorisms of the Sacred Laws of the Hindus by Apastamba. The Sacred Laws of the Aryas, vol. II and vol. XIV of Max Mueller's "Sacred Books of the East", was based on manuscripts which Buehler himself had discovered. It contains the translation of the legal Sutras of Apastamba, Vasishtha, Gautama, and Baudhayana. The Laws of Manu, vol. XXV of the SBE, contains, besides the translation, Buehler's extracts from commentaries and discussions on the development of legal literature and the relationship between the Manavadharmashastra and the Epics.
Buehler later taught Sanskrit at Wien University and wrote a grammar for the use of students Leitfaden fuer den Elementarkurs des Sanskrit, 1883, which is still used today (latest reprint in 1989). Its translation was entitled "Sanskrit Primer", Boston 1886. Buehler was co-founder of the Oriental Institute of Wien University. He initiated the Wien Oriental Journal too. The last years of his life were devoted to editing the "Encyclopedia of Indo-Aryan Research." Buehler planned the work, enlisted collaborators and was general editor.
J. Jolly wrote his obituary in "Encyclopedia of Indo-Aryan Research", 1899 and appended a bibliography of Buehler's works.