According to the system of Preksha Meditation, psychic centres are junctions between self, psyche, and body.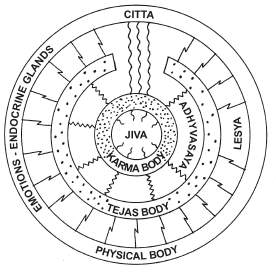 The psychic centres consist on subatomic particles and are connected with the endocrine system. The endocrine system influences all our actions and reactions via hormones.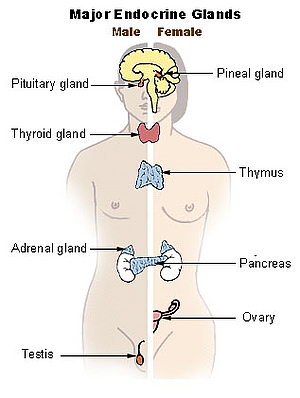 There are many of psychic centres all over the body, Preksha Meditation gives special relevance to thirteen of them:
Level

Psychic Centres

Location

Endocrine System
1

Centre of Energy

Shakti Kendra

Bottom of Spinal Cord

Gonads

2

Centre of Health

Svasthya Kendra

6 inch above Centre of Energy

Gonads

3

Centre of Bio-Electricity

Taijasa Kendra

Navel

Adrenal Gland

4

Centre of Bliss

Ananda Kendra

Near Heart

Thymus Gland

5

Centre of Purity

Visuddhi Kendra

Throat

Thyroid Gland

6

Centre of Celibacy

Brahma Kendra

At The Tip Of The Tongue

Taste

7

Centre of Vital Energy

Prana Kendra

At The Tip Of The Nose

Smell

8

Centre of Vision

Caksusa Kendra

Eyes

Vision

9

Centre of Vigilance

Apramada Kendra

Ears

Hearing

10

Centre of Intuition

Darshan Kendra

Middle of Eyebrows

Pituitary Gland

11

Centre of Enlightenment

Jyoti Kendra

Centre of Forehead

Pineal Gland

12

Centre of Peace

Shanti Kendra

Top Of The Forehead

Hypothalamus

13

Centre of Wisdom

Jnana Kendra

Top of Head

Cerebral Cortex
Perception of psychic centres concentrates the mind on a psychic level (see also: psychic colours and colour meditation).
Focusing on the psyche liberates the soul from attachments.
Managing the psychic centres helps us to transform spiritual aims into action by refining negative impulses.