Second Plenary Session:
Globalization versus Poverty
The session was followed by a special interaction of delegates with H.E, the President of India Dr. APJ Abdul Kalam at Rashtrapati Bhawan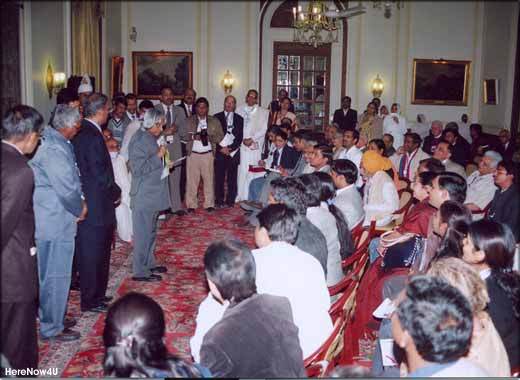 President of India inspiring the participants for promoting global non-violence
Transforming religion into a spiritual force.
Religion, Dr. Kalam opined, has two components - theology and the spiritual component. Theology is something unique for a religion. It's as protective as a shield. One cannot touch it, disturb it. It is well entrenched with the learning of the holy books.
Spiritual component is something that is a common thread binding all religions. The ten commandments of the Bible and the teachings of Bhagwat Gita are not very different. This confirms that a bridge through spiritual components can be made. Our job should be to create a connecting bridge selecting the spiritual components from all religions.
Dr. Kalam then narrated his experience that reaffirms that religion could well be transformed into a spiritual force.
It dates back to 1960s when Vikram Sarabhai, a renowned cosmic rays scientist, then working on global electronic density measurement in the electronic region, wanted a temporary evacuation of Thumba region in Kerala, a piece of land of 400 acres for his research. In order to have a temporary acquisition of the land, he went to the government and bureaucrats, but they expressed their inability to help Vikaram Sarabhai as there were a number of religious considerations because of which they were not able to intervene. They, however, rendered him a valuable piece of advice that Rev. Father Peter Pereira, the Bishop of Thumba, could help him.

Vikram Sarabhai went to see the Bishop and put forth his request. The Bishop smiled and said that the land was his habitat, God's habitat and His children's habitat. How could he acquiesce to such a request? They both smiled. They preached two different religions, but the only thing common between them was the smile that they exchanged. The smile was the only link. The Bishop invited him to the church on the following day.

The next day, the Bishop read the prayer over the dais and introduced Vikram Sarabhai as a scientist and elaborated upon the contributions of science. He said that science provided us with the bulb, electricity and the mike that he was using then. The crux of his address was that science eventually leads to economic prosperity and empowerment of the masses. This was something that he shared with science. As a preacher, he too prayed for peace, the people and their welfare-economic welfare as well as human welfare. He established a very close analogy between himself and the scientist by saying that both were working for peace and prosperity.

The Bishop then proposed before the people that Vikram Sarabhai wanted all habitat and would return within six months after completing his experiments. By the time, such an environment had set in that the people could not refuse and conceded by saying 'amen'. This was the first time ever that a church was used for a scientific purpose and a number of rockets were designed in the church. Vikram Sarabhai was a scientific soul and Father Pereira was a spiritual soul, and what was commendable was the culmination of the religion into a spiritual soul. It was religion transforming into a spiritual soul and Dr. Kalam witnessed this with his own eyes. Dr. Kalam believes that there has been a sea change in human behaviour today and acquiring a church for a scientific purpose seems to be a remote possibility.
Economic Development
Next, Dr. Kalam talked about the insecurities prevalent in the current scenario wherein nobody is secure. Economic development could be the sole respite in such circumstances. Economic development must eliminate poverty. Every country has some core competence. The same competence should be employed to alleviate poverty that perpetuates all the negatives. Every citizen should be an enlightened citizen and a responsible citizen. The onus for this lies on the parents and also the teachers. He talked about his own teacher who injected in him a fire by explaining how birds fly when he was in the fifth standard.
Dr. Kalam's address was followed by an interactive session wherein the delegates and the audience posed a plethora of queries. The first one was, how could we transform our parents? The answer, which the President gave, was that the 'love' for our parents could be used as a tool for transforming the parents.
The next question was about his personal views on the role of women in power and politics. He answered this very crisply by saying that India was the first country to have a lady Prime Minister and he himself was an ardent supporter of the cause of empowering women in every walk of life.
Whether we could have Economics of non-violence in the scientific era, was the next question. This he answered by saying that Mahatma Gandhi used non-violence in South Africa against apartheid and India's struggle for freedom, so why can't a combination persist.
Answering Delmer T. Robinson's question Dr. Kalam said that a rise in GDP in the next 10 years would emancipate 260 million people from poverty. He outlined following areas of strategic significance in achieving the solemn target:
Agriculture
Education
Information communication in tele-education and tele-medicine in villages.
Infrastructural Development-water management, power management and village education.
Dr. Gulab Kothari remarked that examples like Vikram Sarabhai and Rev.Peter Pereira take us beyond our intellectual capacities. However, he was disappointed by the fact that our modern education system lays an overdue emphasis on subjects at the expense of teaching the students to be good human beings.
The President then requested all the delegates to repeat with him the following words, which elaborate how peace is possible:
"When there is righteousness in the heart, there is beauty in the character,
When there is beauty in the character, there is harmony in the home,
When there is harmony in the home, there is order in the nation
When there is order in the nation, there is peace in the world"