President of India remembers Acharya Shri Mahapragya
Abstract from the
Address To The Nation
by The President Of India Dr. A.P.J. Abdul Kalam On The Eve Of 55th Republic Day - 2004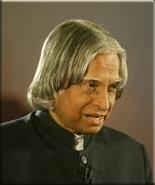 Dear citizens, when I assumed office on 25th July 2002, I addressed the need for unity of minds becoming one of the focused missions for our nation.
Recently fifteen Gurus, Acharyas, Swamijis, Maulavis, Reverent Fathers, Spiritual leaders, devotees and the representatives of many religions met at SURAT in the presence of His Holiness Acharya Mahaprajna and deliberated for two days and took vital decisions leading to the religions graduating as spiritual force.
Also, they have declared that the nation is bigger than any leader or individual or an organization.
They had collectively evolved five inter-religious projects for implementation. [SURAT SPIRITUAL DECLARATION [SSD], Editors]
Nation's best wishes to our spiritual leaders and their mission of transforming religions into a spiritual force.
Full speech: http://www.presidentofindia.nic.in/scripts/republicdetail.jsp?id=2#toptop