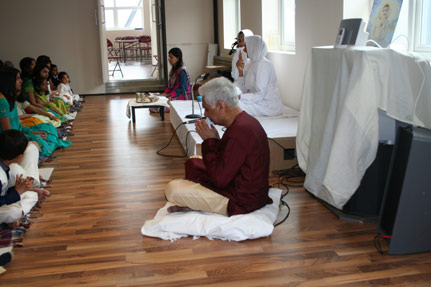 Dr H Sanghrajka broke fast on Akshaya Tritiya
Dr Harshad Sanghrajka, Hon Secreatay of the Institute celebrated the completion of his year long fast, Varsi Tapa. The tradition of Varshi Tapa is assigned to the first Tirthankara of our times, Rushabhdeva. He was a king before he took the vows of a Jain mendicant. Being the first in his time, there was no knowledge amongst his countrymen about the ways of a Jain mendicant.

When Rushabhdeva took to the streets to get his food, people were wonderstruck seeing their king in such a state. They could not imagine that a king could be seeking food and so they offered him precious things like jewels and pearls; some even offered their daughters in marriage. Alas, it was 12 months before Rushabhdeva arrived at the residence of his grandson, Shreyans.

Shreyans seeing a Jain mendicant recollected his past life of a mendicant and realised what it was that Rushabhdev was looking for: pure food for a Jain monk. Coincidentally, some farmers had just arrived to deliver pots of sugarcane juice to Shreyans. Immediately, Shreyans offered the sugarcane juice to Rushabhdeva which he accepted, drinking directly with his bare hands. It is said that the flow was uninterrupted and not a drop was shed on the floor. This is why this day is called Akshaya Tritiya. Akshaya means uninterrupted and according to the lunar calendar, it was tritiya, the third day, of the waxing half of Vaishakh.
Harshadbhai also broke his fast with sugarcane juice, and Shreyans's namesake (his eldest grandson), his family and community all participated in the celebrations! His fast lasted for 13.5 months and consisted of eating a limited diet every other day. He would have a window of eight hours in which to eat during every forty eight hour cycle. He normally had two light meals during that period.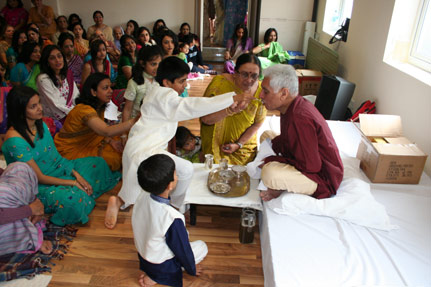 Shreyans, the grandson serving sugar cane juice to grandfather
He had continued with the ardous IoJ Secretary's duties as usual. He was one of the main organisers of the launch of Jain Manuscript Catalogues in New Delhi ahd has participated with equal vigour in the UK launch to take place on 15th May.