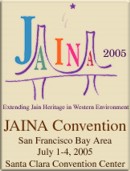 JAINA Convention 2005
Federation of Jain Associations In North America



Mark your calendars to attend the largest gathering of Jains of all ages
at the 2005 JAINA Convention in the San Francisco Bay Area
hosted by The Jain Center of Northern California (JCNC).

Register by April 15, 2005 to take advantage of the lower registration rates.
Please sign up for the Inter-Jain Center Cultural Competition.
Click here for entry application.
Convention Updates...

Online Registration is now available
Detailed 16 page Brochure (1.2MB)
Summary 4 page brochure (600KB)
One page flyer (800KB)


Early registration deadline was extended to due to online registration system issues and delay in delivering convention brochures.

Convention Highlights...

A musical performance by Anuradha Paudwal
A Dandiya-Raas night with music by the famous Satellite Group of Bombay
Inter-center cultural competition
Jain cooking workshop by Tarla Dalal
Jain Art Exhibition and sale of Jain paintings
And above all, for the first time at JAINA - professional conference style parallel track programs covering the convention theme, religious discourses, hands-on workshops, special tracks for the young Jains, and more by world renowned scholars and academicians
Special tracks for young Jains, including oratory contests, a track on "Growing up in America", and Bollywood aerobics
JAINA Networking Forum sessions, including Table for Six, Cruise, and Musical Night!
Special activities and game sessions for youths and children under age 13 allowing parents to attend sessions.
Experience Jainism with Monks, Scholars & Practitioners
Enjoy Mind-Body-Soul & Cultural Programs plus Incredible Cooking Classes with Mrs. Tarla Dalal
Enrich your Career, Contacts and Relationships
Escape in the Beauty of San Francisco & the West Coast
Explore Silicon Valley & Sanctuary of the Jain Bhawan