A training workshop on Jeevan Vigyan was held for teachers in presence of Sadhvishree Kanchanprabhaji.108 teachers of 32 schools took part in it at Mahasabha Bhavan 3, Portugese Church Street, Kolkata. The programme was organised by Jeevan Vigyan Academy Kolkata; Srichand Bhutoria, president of the academy, welcomed all participants. Main trainer was Sri Bajrang Jain from Bangalore; Sri Bhanwarlal Singhi introduced and presented the speakers.
Sadhvishree Kanchanprabhaji explained that Jeevan Vigyan is a new concept of education, developed by Acharya Mahaprajna. According to her, in the present education system, we see intellectual development only, but Jeevan Vigyan Course aims at
Physical development
Mental development
Intellectual development
Emotional development
Sadhvishree expressed the hope that all participant teachers may understand the subject and give proper training to their students. Sadhvishree Manjurekhaji also spoke on that occasion.
Smt. Girija Vyas visited the workshop; she is the chairperson of the government's women commission, taking care for equal opportunities of women, to avoid injustice towards them.
Sri Bajrang Jain, Bangalore, giving training to teachers.
From left: Sadhvishree Kanchanprabhaji, Sadhvishree Manjurekhaji, Sadhvishree Uditprabhaji.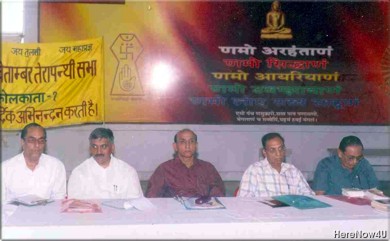 From left: Bhanwarlal Singhi, Ranjeet Dugar, Kamalkishor Lalwani, Bajrang Jain, Srichand Bhutoria.