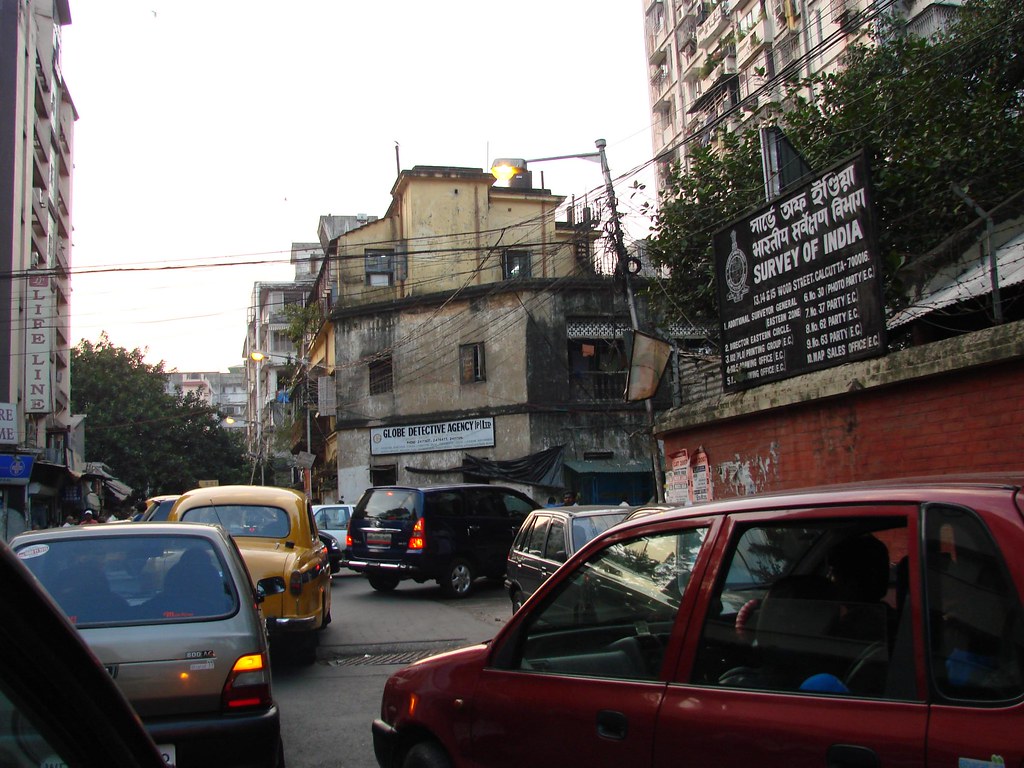 16.11.2006
At teatime, we arrived at Dr. Manju and Mr. Surendra Nahata's home. They gave a warm welcome to us and offered snacks together with a delicious green Assam from a tea plantation, which is an old property of the family. The saying that a delicious tea is an opener for discussions one likes to remember was proofed true this afternoon.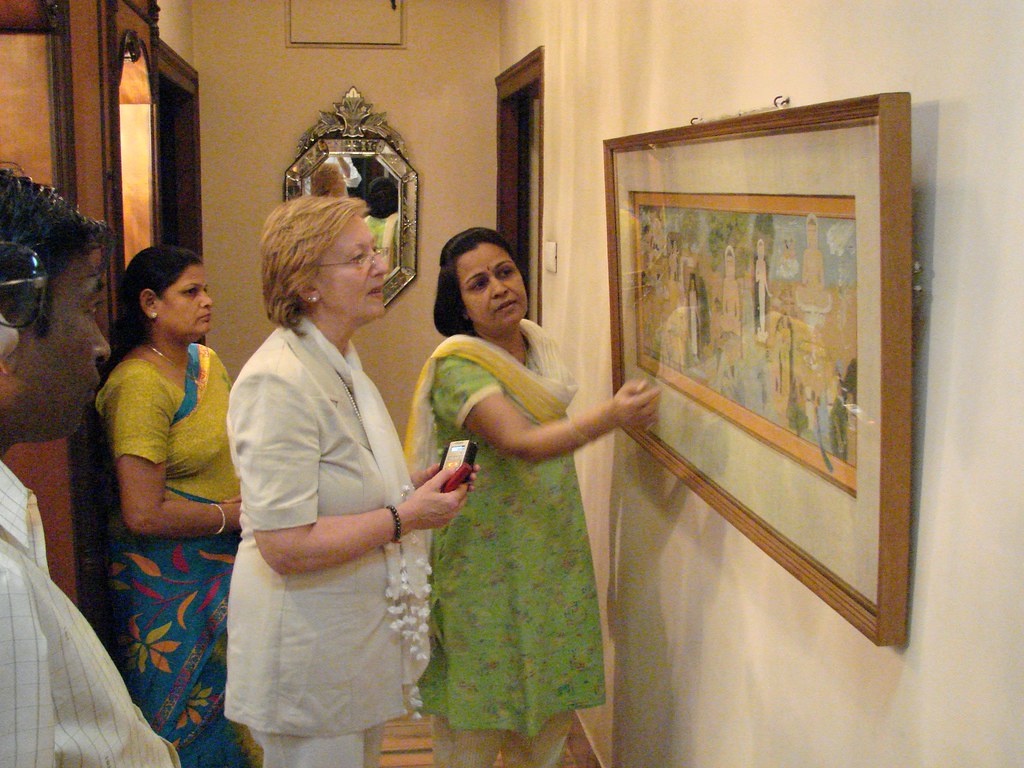 In the living room, an eye-catching painting showed two merging landscapes. On the bottom, there was a colourful scene with people, ready to celebrate some festival, and plenty of animals in cages, whereas on the top two white clad figures in some distance from each other climbed a hill in a desert like landscape. Dr. Manju Nahata had shown in this painting her interpretation of a well-known Jain story where the bridegroom prefers to renounce worldly life when he recognises that the miserable animals in the cages were meant to be eaten at the occasion of his wedding. His bride later also became a nun and followed him on the path of non-violence.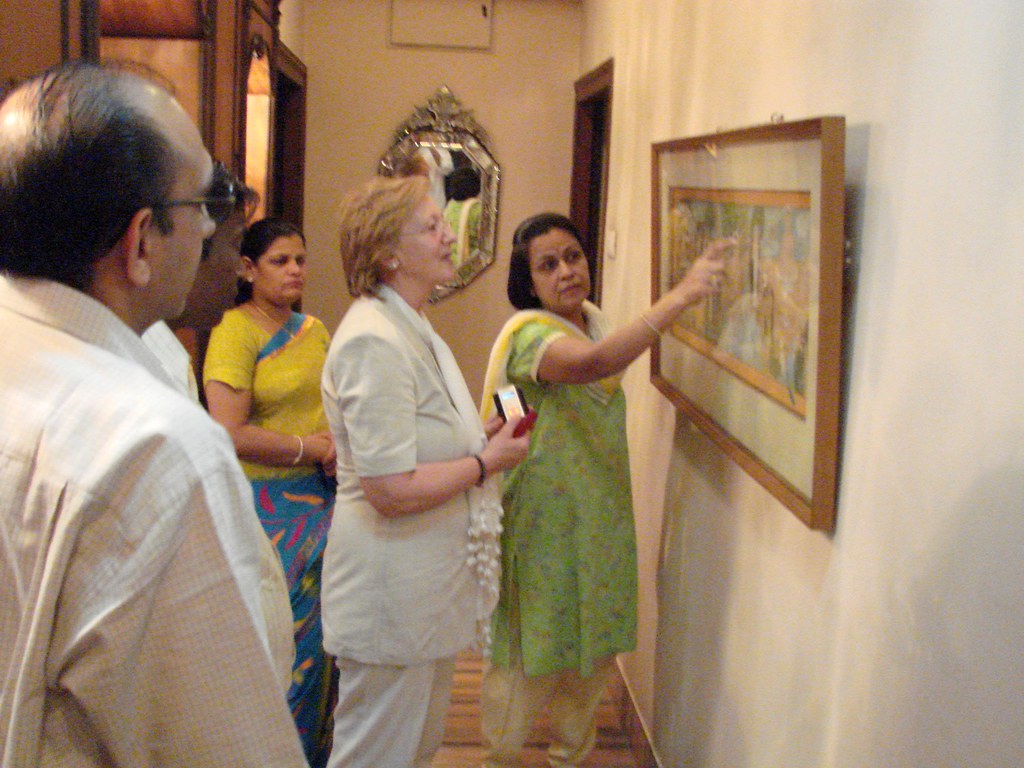 We were very interested to see more paintings, and Dr. Nahata invited us to a wonderful trip to the world of her art. In the floor, we saw paintings in different styles. She explained that she had studied many styles to adjust the technique with the subject. She demonstrated this with her Holi painting (moved and florid) and a painting symbolising Lord Mahaviras teachings of peaceful coexistence showing OM SHANTI as a flag and an umbrella. To every painting she told the wonderful spiritual story behind and gave some insights on the style she had chosen for it and why.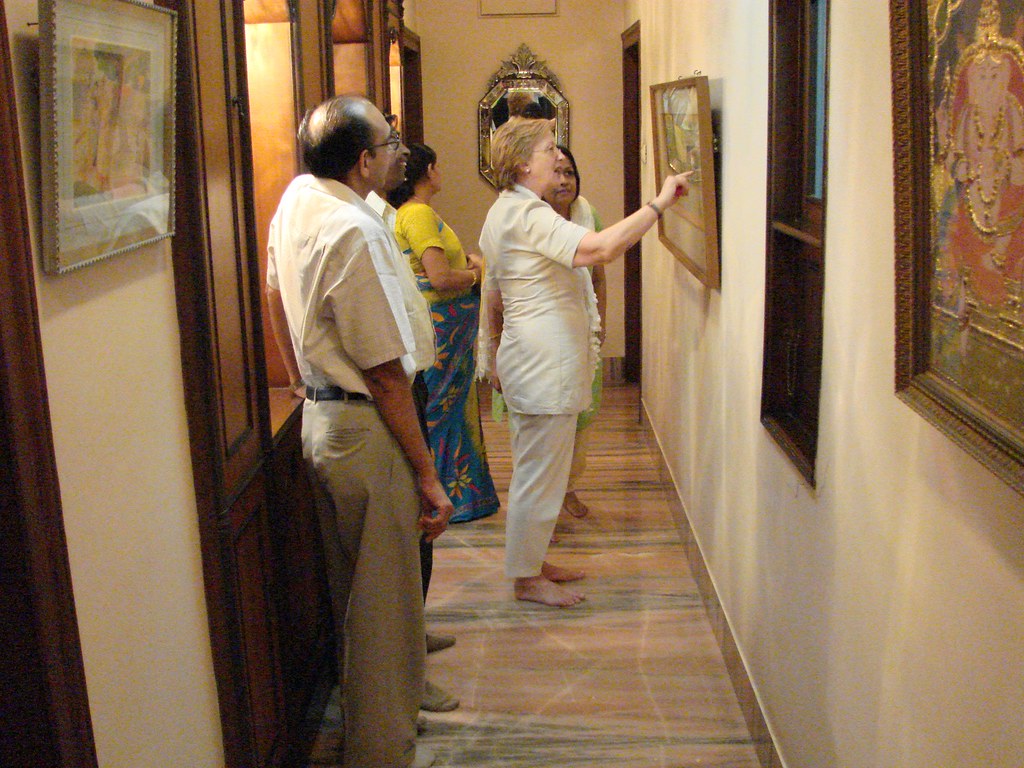 For example, she drew the attention to the difference between New Bengal School Kolkata with its soft colours and Rajasthani style with its bright colours. Both styles can be understood through the landscapes they are originating from, soft colours are used when the landscape has plenty of greenery, whereas bright colours are used in the desert landscape of Rajasthan, "For paintings and Saris," she added smilingly.
The painting of Lord Parshvanath in the 5 colours of Namokar Mantra is done in a wash technique for which she had washed the painting 25 times. For her it is important to have a broad choice of techniques, the base of art should be mastery on the manual aspects of it, then comes the artistic interpretation of the subject. Therefore, she first acquired mastery on the techniques and second on her subjects. She has done her PhD at JVBI Ladnun on 'Interpretation of Anekantvada through Paintings'.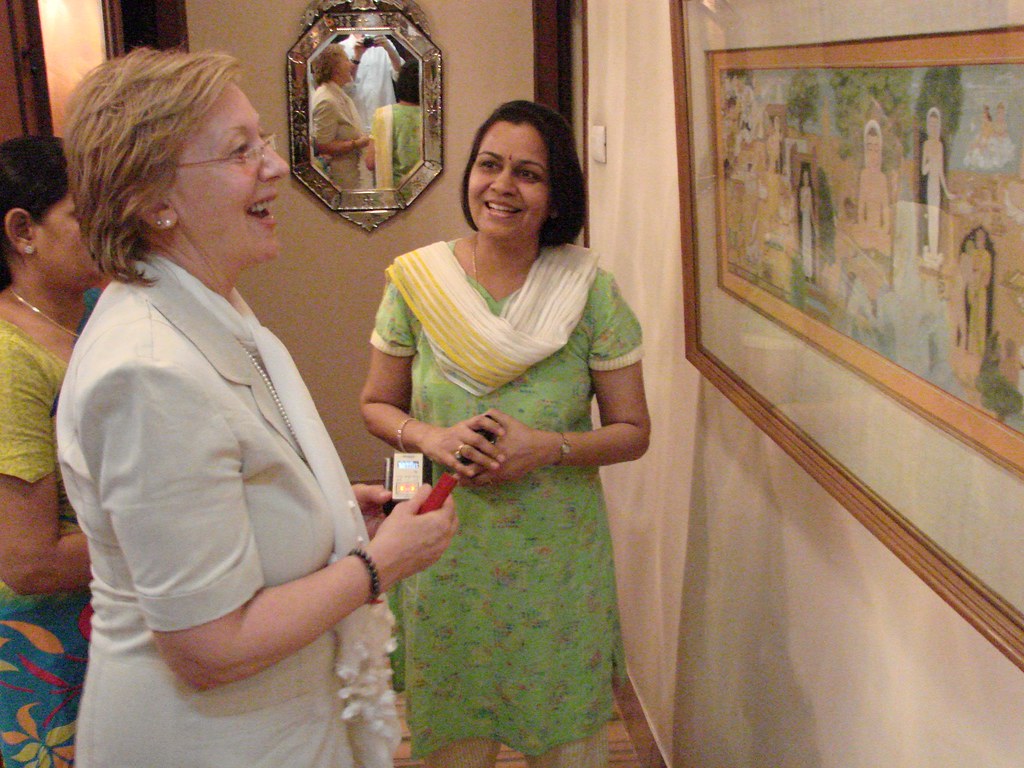 Her way to spiritual art was a long way round. At the age of 17, she was encouraged by her teachers to follow her talent and to go deeper into arts as an object of her studies. However, in the seventies of the last century this was also the age where girls in India got married, so she married with Mr. Surendra Nahata, brought up their children and got deep into education matters because she wanted them to respect the ethics of life. The whole family followed and follows the Anuvrat code of conduct.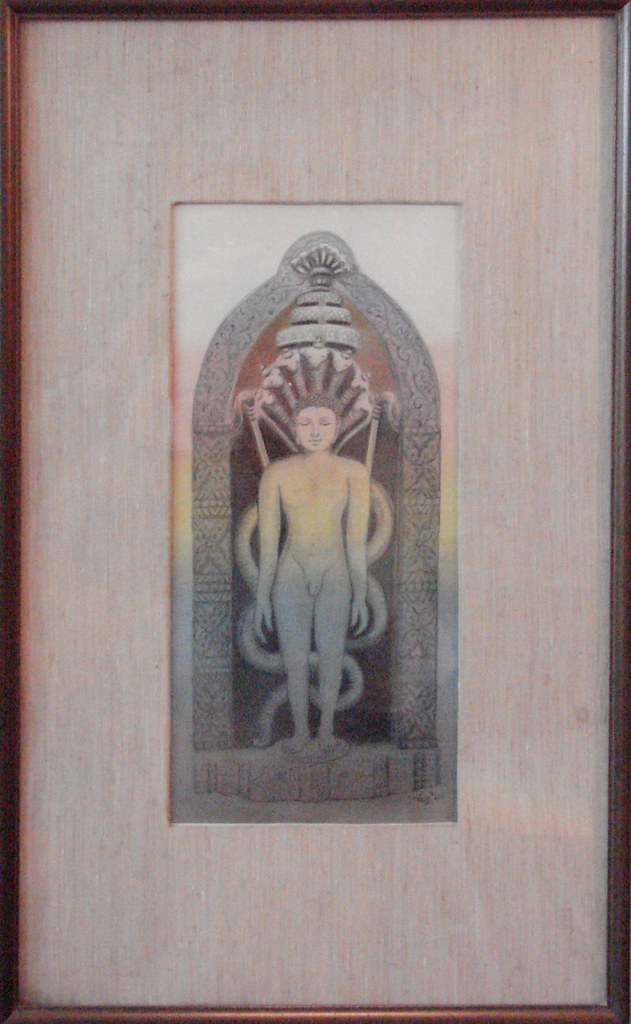 Her aspiration still was with arts. It was her good luck that her husband always had encouraged her to realise the dream of her youth.
Looking back from the present, she resumed that all events in her life go together like fragments of a puzzle found here and there. Every fragment is part of the whole and attributes to its beauty, but this can be recognised in the course of time only.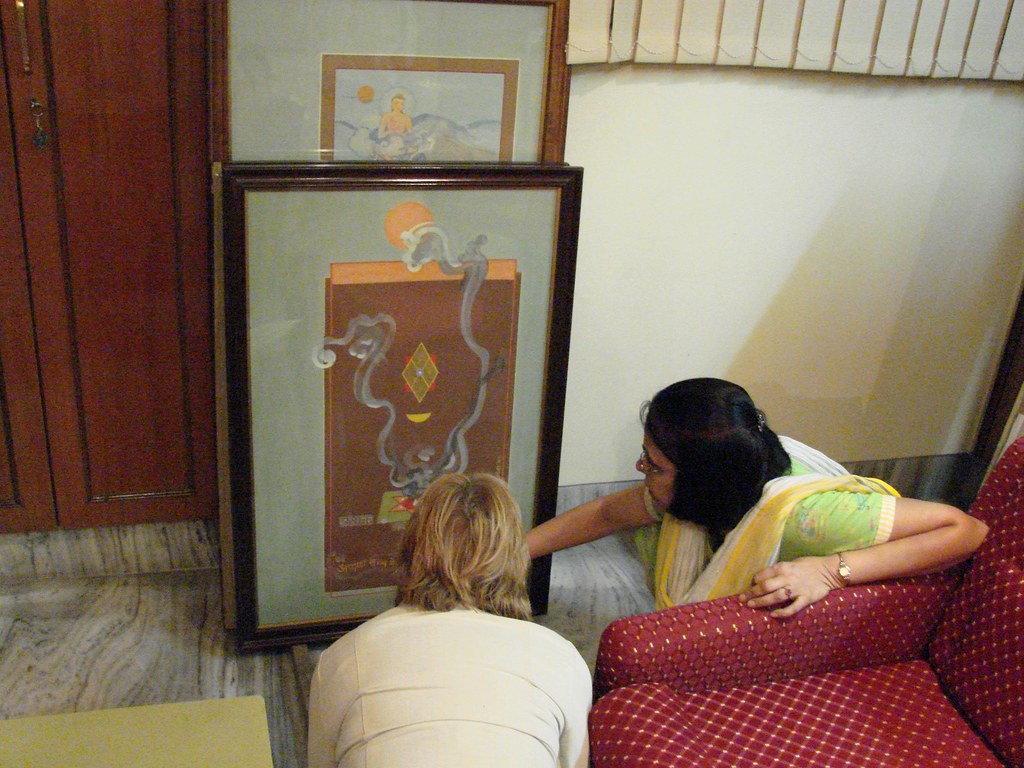 In one room, she showed her actual task, miniature illustrations to old scriptures, which a Muni had put down in the traditional way. This ancient art rarely is practised nowadays. When he saw her paintings, he thought that she would be the one to manage with the task. With tiny brushes, she coloured the traditional illustrations she had drawn in fine lines of black ink. The artist herself manufactures every colour in the ancient way from precious and semi-precious stones.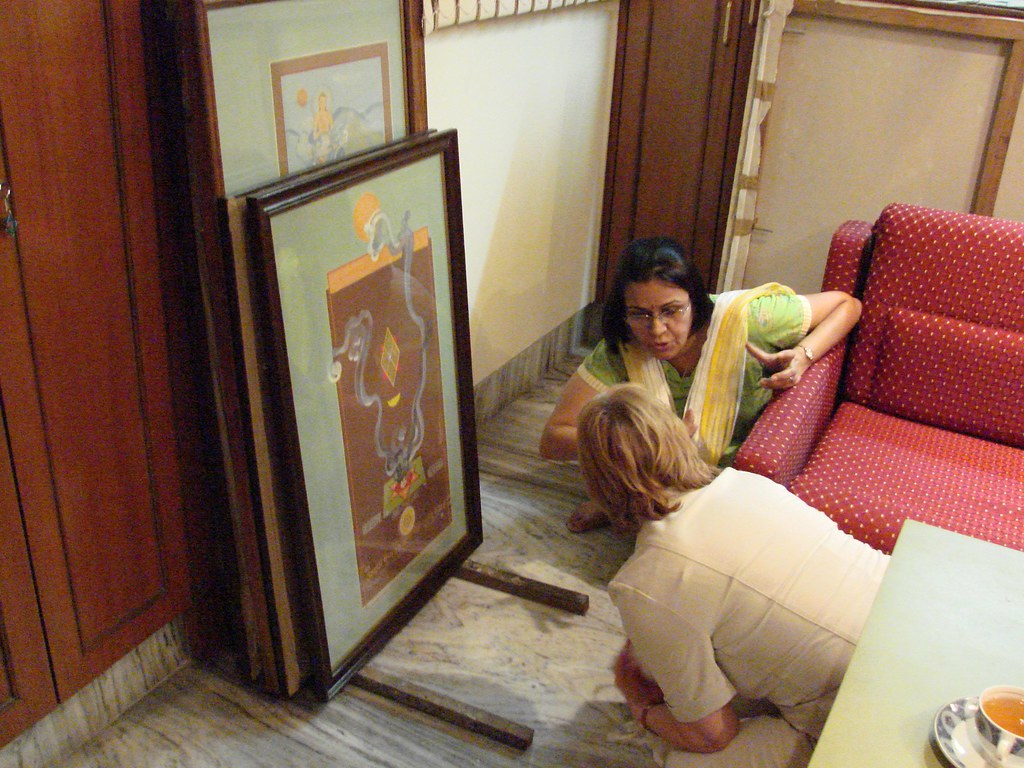 Then we were invited to visit her atelier upstairs! We had the impression to be admitted in a kingdom of treasures, so many different paintings, each vibrating of spiritual energy. Hopefully these treasures will be shared with a broader public in the future, as Mr. Nahata has taken wonderful photos of his wife's paintings.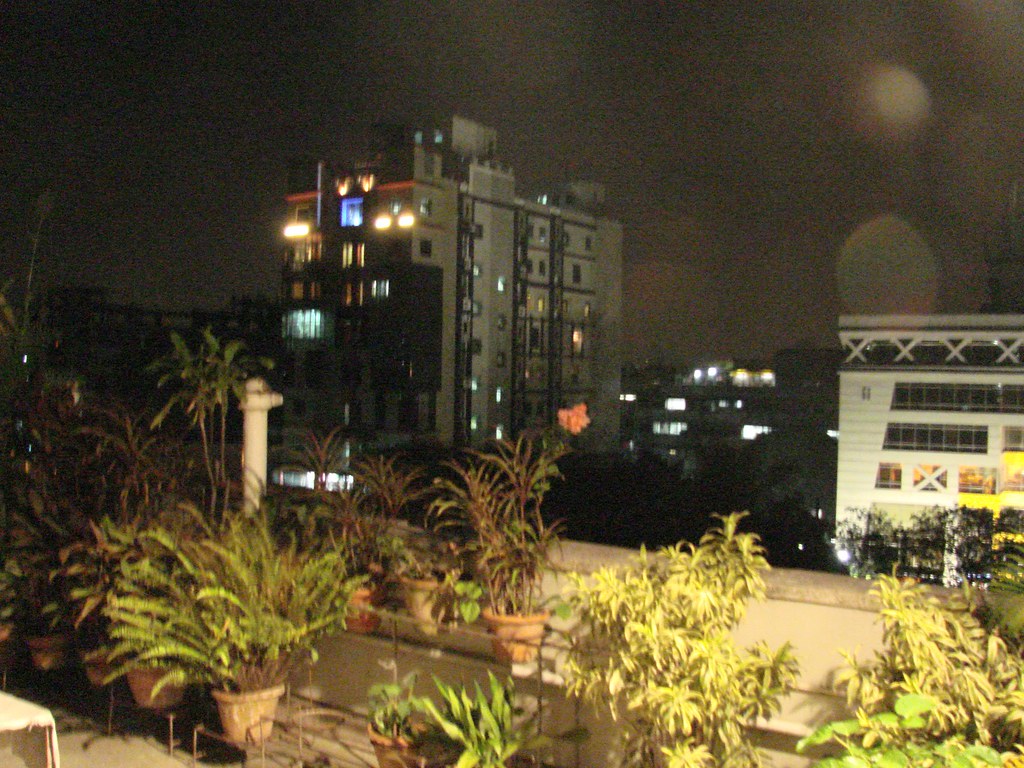 When we were looking to the sky from her roof terrace, we could imagine how it would be when the stars were visible… stars? Oh, it was dark since nearly one hour, our extended visit had to be finished immediately for not causing troubles to those who already waited for us.