WikiMapia
Gangasahar
Three day programme for Maryada Mahotsav was scheduled on 23-25th Jan 2007. People planned their trips well in advance. This correspondent took a flight from Kolkata to Jaipur on evening of 21st Jan and by the time the plane landed in Jaipur, it was learned that there were more than 10 people heading to Gangasahar even on that particular flight. I tried to do a mental calculation of people who would come by other planes, and even a larger number who would come by trains and road but was unable to make a reasonable guess of the gathering that I would witness in Gangasahar. At Jaipur airport, Shri Surendraji Choradia, President of Jain Vishwa Bharati and immediate past president of Jain Shwetambar Terapanthi Mahasabha very kindly insisted that instead of making my own travel arrangement from Jaipur to Gangasahar, I should travel with their group in their cars. Dugar Family at Jaipur hosted a warm and wonderful dinner at their home for the whole group and by the time we left Jaipur, it was almost midnight. Travelling by road at such an odd time, even in deep winter in desert state of Rajasthan was not seen as an obstacle. On the contrary, everyone was quite eager to reach Gangasahar at the earliest. The journey time passed quickly in company of Shri Surendraji Choradia, Shri Bhikamachandji Pugalia, Shri Prakashji Baid, Shri Surendraji Dugar etc. senior terapanthi post holders and their families. We reached our destination around 5.15 am on Monday the 22nd Jan.
Surely it was going to be a very wonderful week ahead. Eagerness of darshan of Pujyapravars was reaching it's peak. While waiting for my host to pick me up, I tried to imagine what Maryada Mahotsav means to different people. As if by cue, I overheard a newspaper boy and a autorikshaw driver talking and encouraging each other to be prepared for better business in next few days because of expected influx of outstation visitors!!! Being able to understand their native language I could not resist joining the conversation and learned that in addition spiritual gains, Maryada Mahotsav also brings a host of material benefits to a large section of society. The newspaper boy Mr Prakash told me that after completing his newspaper rounds in morning and before opening his shop, he goes for darshan and listens to pravachans whenever there are important programmes. I learned that for the convenience of visitors, the Maryada Mahotsav Samiti has fixed the autorikshaw fares between various points and the autorikshaw drivers were duly displaying those fare charts. Taking this as a sign of depth to which the Maryada Mahotsav Samiti has made the preparations, I made a mental note of meeting the people who have worked so hard to make the event a fully successful and enjoyable experience for each and every person.
But first things first….yes, soon after leaving my bags at my host's places, I headed for Darshan of Gurudev.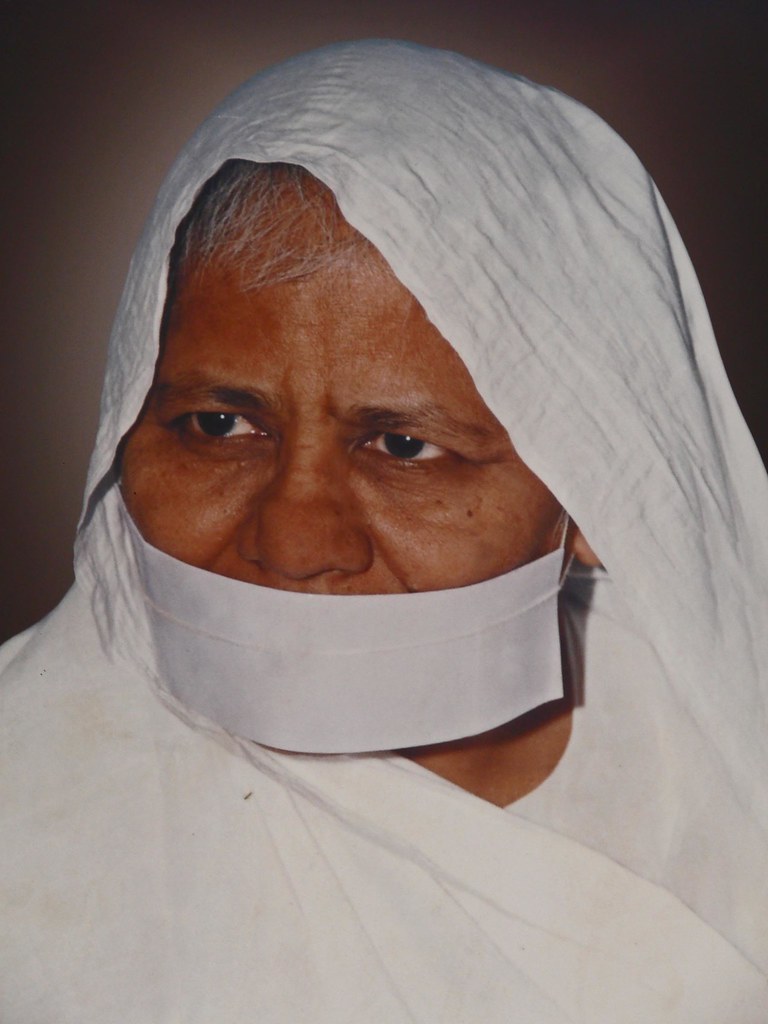 Shantiniketan, the place where Sadhvi Pramukhashriji was staying, was on the way so naturally I went there first for darshan of Pramukhashriji and perhaps appx. 150 other sadhvishris who were doing their morning pratikraman there.
Around 6:30 am on Monday the 22nd Jan my good fortune smiled on me at Terapanth Bhavan, Gangasahar and the desire, which I cherished since last darshan of Gurudev, the desire which became more and more intense after my travel dates were finalized was fulfilled.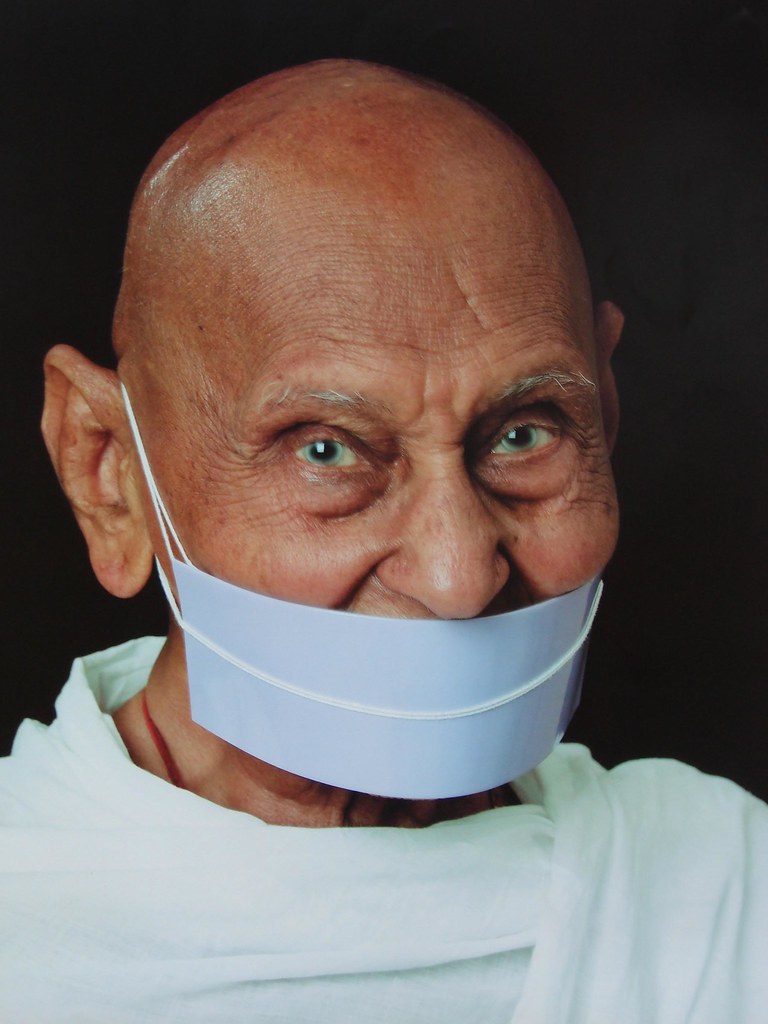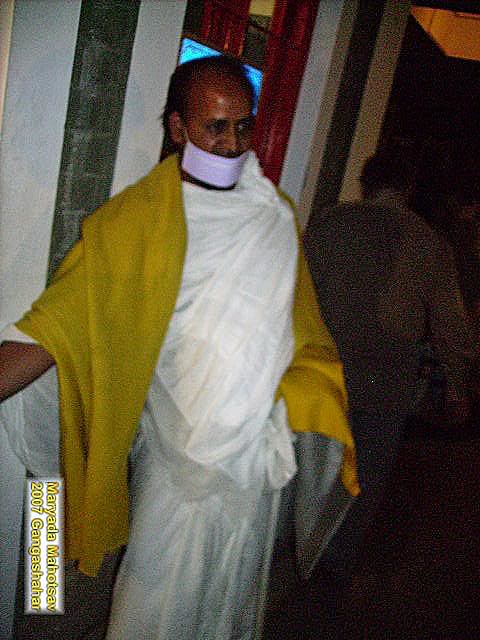 Munishri Ashokkumarji - finds a fine balance between visitor's desires of darshan of Acharyashri and acharyashri's available time. No one goes disappointed. 25th Jan 2007 Munishri Ashokkumarji promptly escorted me to the right place. The dream became a reality. Dear Readers, please understand and excuse me. I know no such words and grammar which can fully convey the feelings and experience of such particular moments. After joining guruvandana congregation and listening Mangal Path recited by Yuvacharyashri,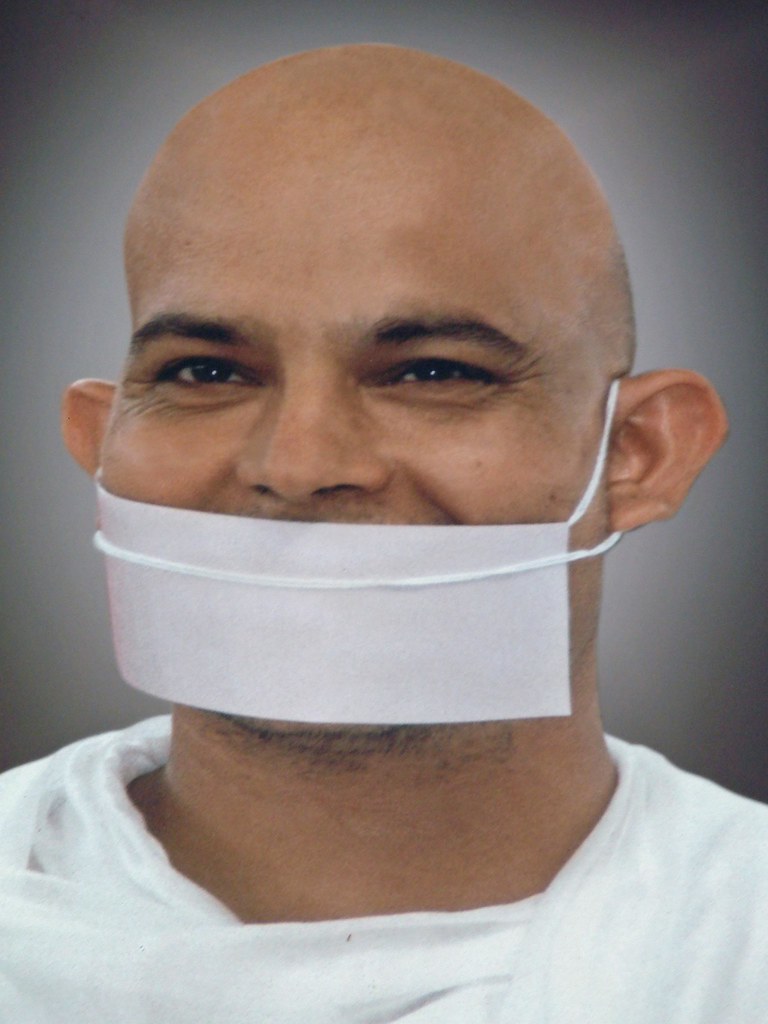 I went for darshan of various munishris. (In the coming days, this became my routine for early morning hours.) The week and the day had begun on a very good note. The flow of positive energy emanating from Pujyapravars and all sadhu/sadhvis was evident everywhere.
During the day I attended "Prize distribution ceremony for winners of Agam Manthan Pratiyogita". And I met some key people to learn about preparations, which were in place to make the 143rd Maryada Mahotsav a memorable event. I will write separate notes on those and many other aspects of Maryada Mahotsav.
So dear readers, please keep visiting for updates.