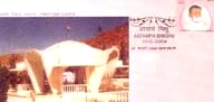 On 30th June 2004, Indian Postal department has issued a multi-colored commemorative postage stamp on the founder of the Terapanth Sect, Acharya Bikshu. Two special functions were organized to release this Rs.5/- stamp. The first function was organised at the residence of Vice President of India, Shri Bhairo Singh Shekhavat at New Delhi. Second release function was organized at Siriyari (Distt. Pali, Rajasthan) where Acharya Bikshu had attained Nirvana.
Acharya Bikshu was the man of revolutionary ideas who was propelled to react after he made an intense study of ancient texts and became acutely aware of not only their misinterpretation, but also the distorted version of religion prevalent in society. According the moon calendar he was born on the thirteenth day of the waxing moon in the month of Ashad in the Vikram Samvat year 1783, in the village of Kantaliya in Pali District, Rajasthan. He took to ascetic life under the guidance of Acharya Raghunathji. He set out from the village of Bagadi expressing his disenchantment with conservative fundamentalists, false beliefs and blind faith and reached Kelba in Mewar, Rajasthan. There he took a vow and established the Terapanth religious Sangh on June 28,1760.
Acharya Bikshu was a philosopher saint, perceptive writer, sensitive poet and social reformer. He composed about 38000 shlokas and his writings have been compiled in two volumes as "Bikshu Granth Ratnakar". Among his compositions, 'Nav Padarth Sadbhav", is regarded as a significant philosophical composition that deals exhaustively with the nine gems of Jain philosophy advocated a society free of exploitation.
He gave to the world knowledge about the different premises of religion and society. He said wherever there is goodness and truth is conducive, irrespective of caste, creed or place to the well-being of the society. Help rendered to the suffering, exploited and helpless was labelled by him as duty, responsibility and social obligation; he gave the clarion call for a revolution in society. Acharya Bikshu attained eternal bliss in the Vikram Samvat year 1860 at Siriyari, Rajasthan.