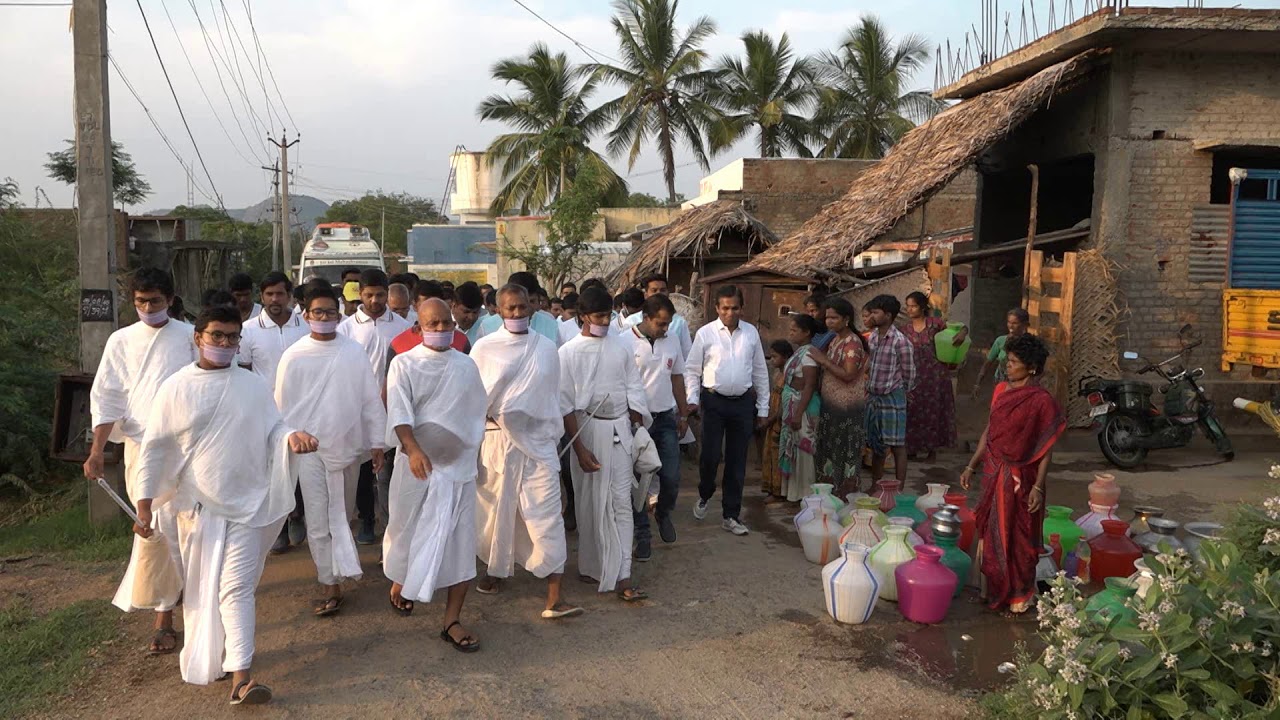 Acharya Mahashraman in Naxal Area
Naxalism is a major problem of the country; it is a problem arising due to socio-economic reasons. The tribal's are forced to live a low level lifestyle due to poverty, unemployment and government negligence. The untimely death in these areas, which is suffering from serious diseases due to lack of healthcare, is not surprising. Instead of developing Naxalite areas, they have not even basic facilities like education, medical service and employment. The problems like economic inequality, corruption, plight of farming still remains. Of course, these problems lead to discontent and rebellion nature in the people and it is because of these dissatisfactions that the Naxalites live periodically by committing incidents of violence, hatred, malice, immorality and crime and such incidents are so gruesome and terrible.
The violent mentality in these areas has created such an environment that humanity becomes meaningless. There is an atmosphere of fear, instability, immorality, violence and anarchy in the Naxalite affected areas of the country. Whenever humanity moves towards degradation, moral values begin to lose their identity, situations of mutual conflict are created in society and nation, then some great man with his divine duty, whose positive aura and character brightness performs the work of public awakening by awakening human consciousness.
Acharya Shri Mahashraman, founder of 'Anuvrat Movement' is traveling on a journey to the Naxal-affected areas of Chhattisgarh, doing the same in his non-violence journey. We are looking forward to the solution of this problem. In his non-violence journey, he met the Naxalites from place to place, inspiring them to leave the path of violence and hatred which has got a wide impact. Acharya Mahashraman realizes the need for an honest effort to solve the Naxal problem.
He is on a journey from Hyderabad to Raipur. He reached Sukma in Bastar, a heavily Naxal-affected area in Chhattisgarh, through 90 villages and several Naxal-affected areas. People walking on the padyatra with him told that the tribal's took his blessings all the way. While walking through dense forests, some youth wearing uniforms also paid obeisance to them while some Naxalites shared their pain with them.
Acharya Mahasramana believes that no person wants to follow the path of violence. Some people deliberately take them on the wrong path for their selfishness. He said that during his padayatra, he gives the message of leaving the path of violence and moving towards the path of non-violence and peace. At his call, hundreds of people have given up violence and addiction of drugs till now. Such people are still following the pledge to stay away from addiction.
Naxalites also want to leave the path of violence, for which Acharya Mahashraman is giving proper guidance to the Naxalites through his revolutionary thinking. Now, in this complex era, everyone's eyes are on his efforts, which can bring down the fear of violence, immorality, rebellion and hate riding on Naxalite bodies. It seems that Acharya Shri Mahashraman's Ahimsa Yatra is ready to lay the foundation of non-violence, love, honesty, brotherhood, morality and a balanced society as a venture to connect people to humans in this dense darkness.
Today, in order to bear Naxalite wounds in the country, to revive the humanity that is languishing in them and to infuse the winds of humanity, there is the expectation of great men / avatars like Acharya Mahasharaman to communicate new life and non-violence in the meaningless meaning of human life. One of the major reasons people are particularly hopeful towards Acharya Mahashramanji is that he has made special efforts for non-violence, morality, establishment of democratic values, political correctness, character brightness and communal harmony, the essence of his life is non-violence and morality.
He is a saintly man, a sensitive superman. By living a life of self-purity and character brightness, we can establish morality in the country and the world as an example of the "Anuvrat Movement". Acharya Sri Mahashraman ji travelled six years ago from the Red Fort in the capital Delhi on a non-violence journey and travelled to remote provinces and neighboring countries Nepal, Bhutan, via Karnataka, Tamil Nadu, Assam, West Bengal, Kerala, Bihar, Andhra Pradesh, Maharashtra, Madhya Pradesh. These days he is wandering in Naxal affected areas of Chhattisgarh. This year, in Raipur, Chhattisgarh, in February -21, he will pay his respects to the grand 'Maryada Mahotsav ceremony'. This non-violence journey and padyatra has not only nationalized the whole of humanity but has inspired non-violence, not only the country, but the eyes of the world kept looking towards an innovative revolution that took place in this journey, how Acharya Mahasraman has given the values of human values.
This was the first time a Jain Acharya touched the violence-ridden Naxal areas while taking a padyatra. Acharya Mahashraman paved the way for the upliftment of humanity by motivating the masses with a padyatra of more than 30,000 km with the resolve of self-welfare and reckoning. Ahimsa Yatra is a campaign to change their heart, from untruth to truth, to violence to non-violence. This journey has also proved to be a boon for the rural masses and stressed urban people who are trapped in misdeeds. This journey, beyond the boundaries of caste, community, class and nation, was geared to fill the virtues in the lives of children, youth and old people.
Acharya Shri Mahashraman has set three objectives of the journey of non-violence - the world of goodwill, the promotion of morality and the campaign of de-addiction. This journey ignited the light of humanity in various provinces and other countries of India and now the country's most burning problem is trying to end Naxalism. Be aware, Acharya Tulsi, the Guru of Acharya Mahasramana, played an active role in solving the Punjab problem of burning in the fire of terrorism and in pacifying the language movement of South India. He was led by Guru Acharya Mahapragya to lead the Jagannath Yatra in Muslim areas in Ahmedabad in Gujarat in an aggressive communal atmosphere, creating an atmosphere of harmony in both communities.
Carrying on this legacy, Acharya Mahasharaman, if now ready to solve the Naxal problem, is a pleasant feeling, surely it will lead the way to solve the country's most burning violent problem. Gandhiji saw non-violence as a superpower and on his strength he also gave independence to India. Acharya Shri Mahashraman has also been continuously moving through the Ahimsa Yatra for non-violence, goodwill, health, morality and peace in the country and the world. Certainly this auspicious resolution was made and only great men like Acharya Mahasharaman have the ability to shape such a resolution. In fact, whether the violence is by Naxalites or by the government, it cannot be supported. The victims of their violence are ultimately the same people for whom they want to get something. It is a universal truth that the system achieved by violence does not last long and eventually breaks down. On the other hand, the government should also rise above the problem of law and order and make efforts to overcome their basic problems. Our democratic organs - central and state governments, media and non-governmental organizations all need to make collective efforts to connect the poor and laborers affected by the Naxalite ideology to the main stream of the nation and to strengthen the efforts of Acharya Mahashraman.With the efforts of Acharya Maha Sharamana, the tribal land, i.e. the Naxal-affected area, will regain its aura in the form of non-violence, peace, morality, harmony and humanity, and if such a wonderful event happens, it will be a living example of a spiritual revolution.