4th Feb 2018: Together with my mother, I teamed up with the joint group of "Terapanth Yuvak Parishad" and "Mahila Mandal" from Titilagarh for service during journey of Acharya Shree Mahashraman from Cuttack to Western Odisha.
We reached Acharya Shree's camp on 4th Feb at a village near industrial town of Angul. We were a group of 7 people and replaced a similar joint team of 10 people from Titilagarh for the service. Previous team served from 1st - 4th Feb and handed over the charge to us.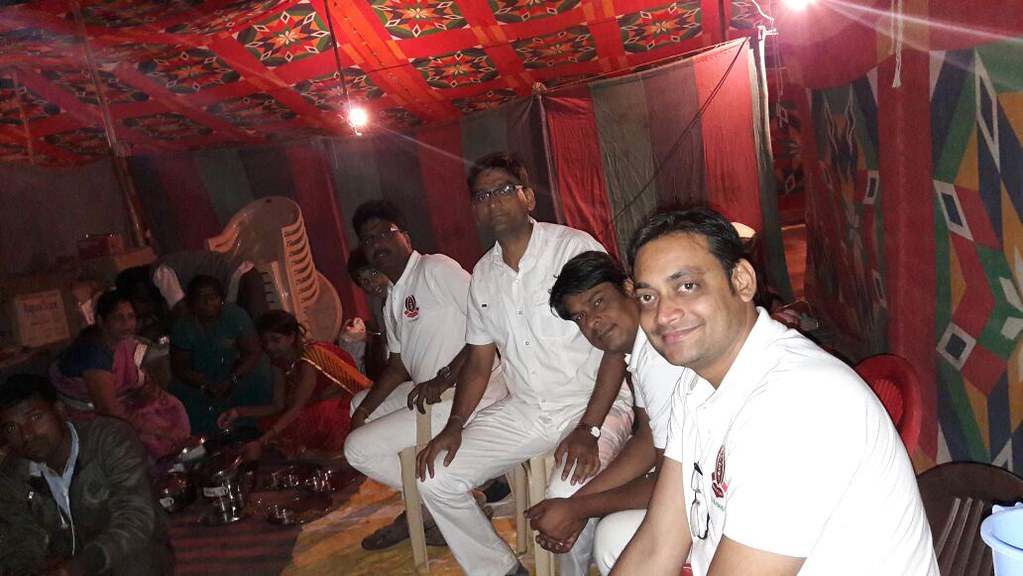 Titilagarh Yuvak Parishad Team (serving from 1st-4th Feb) at their camp
Some of our main activities included:
Accompany monks and nuns during their walk from one village to other. The caravan of monks, nuns and laymen was passing through a dense forest of Central Odisha with habitat of Elephants in the Jungle. H.H. used to start around 6:30 AM and cover the distance to next village with an average of around 5 KM per hour.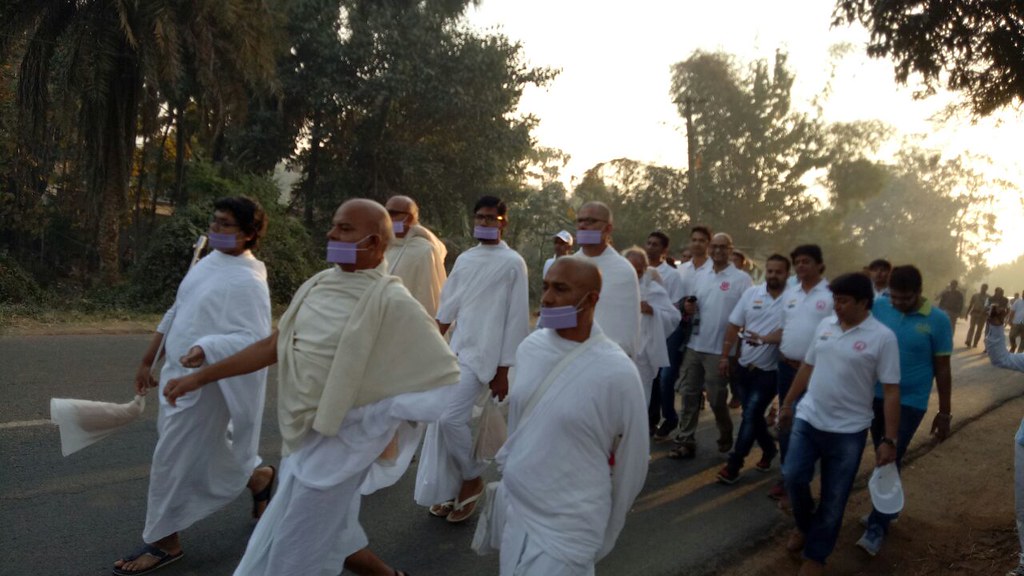 Acharya Mahashraman on the way to next village
Check the arrangements at the camps. School buildings are usually the campsite for monks and nuns at small villages.
Spread awareness about Ahimsa Yatra among local villagers. There is a well equipped Ahimsa Yatra van with pamphlets, audio/video and other informative materials about mission of Ahimsa Yatra. Everyday few volunteers from our group took this van in the noon hours to next day's camping village. The volunteers meet local villagers, school students and teachers and inform them about the three noble vows of Ahimsa Yatra.

These vows are:

Peaceful co-existence with people from various backgrounds
Honest living
Addiction free lifestyle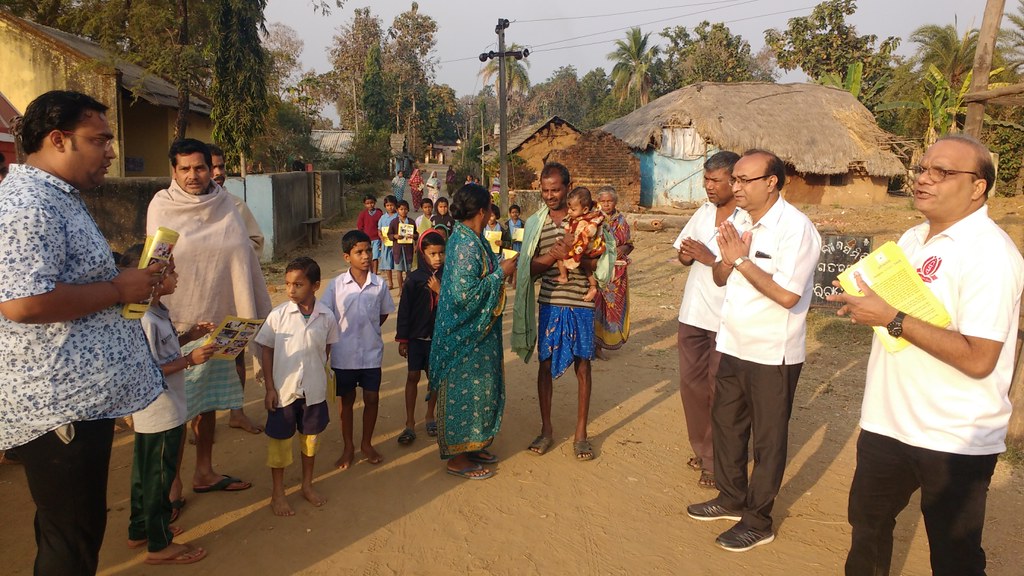 Volunteers promoting Ahimsa Yatra principles at villages
Acharya Shree Mahashraman's busy day starts very early in the morning. Laymen could start joining Acharya Shree's assembly from around 4:30 AM. Morning assembly concludes around 6 AM with Mangal Path (auspicious chants and blessings) from Acharya Shree.

Monks and Nuns start their journey on foot to next village around 6:30 AM. Usually Acharya Shree Mahashraman reaches the next village by 9:30 AM. One hour discourse session is scheduled from 10:15 to 11:15 AM.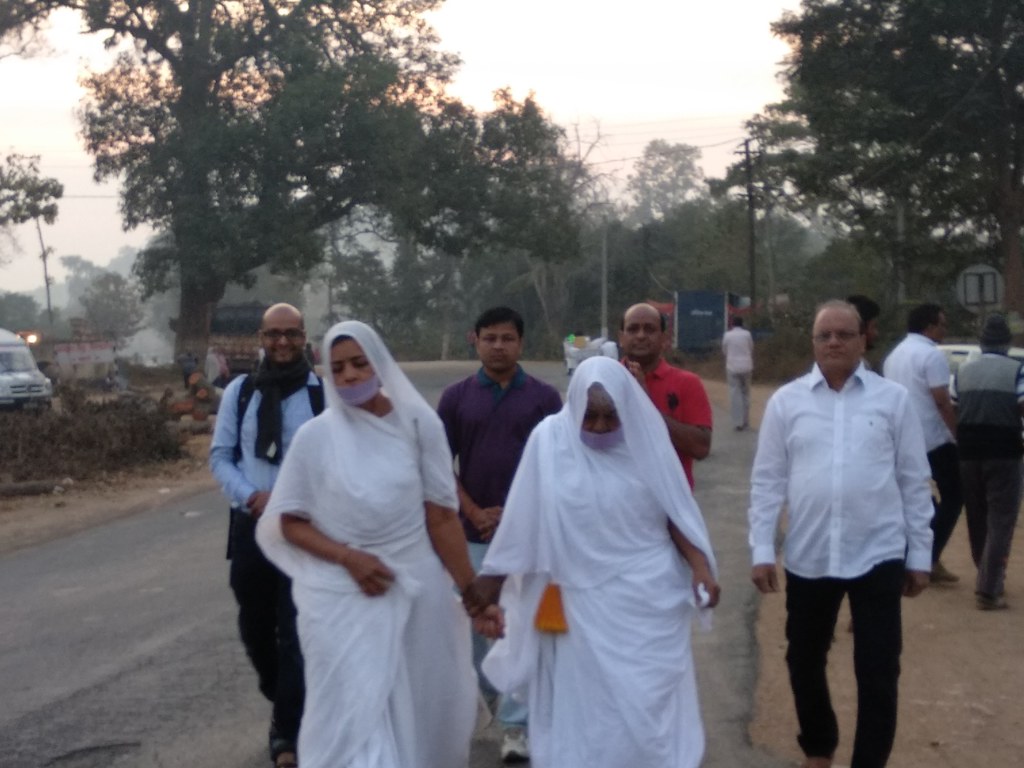 Walking together with Sadhvi Pramukha Kanakprabha
From 2 to 3 PM, Sadhvi Pramukha Kanakprabha with a team of nuns joins Acharya Shree Mahashraman for Aagam editing work.

We used to assemble again for meditation/prayer in presence of Acharya Shree at around 6 PM. From 7-8 PM, gents used to meet monks and ladies used to meet nuns. Acharya Shree Mahashraman usually practices half hour yoga around 8:30 PM before retiring to bed.

Titilagarh team took an appointment from Acharya Shree Mahashraman on 7th Feb. We requested Acharya Shree to give a monk/nun's Chaturmaas to Titilagarh for 2018.

I was very happy to meet my Aunty nun, Sadhvi Puneet Prabha, currently with Acharya Shree caravan.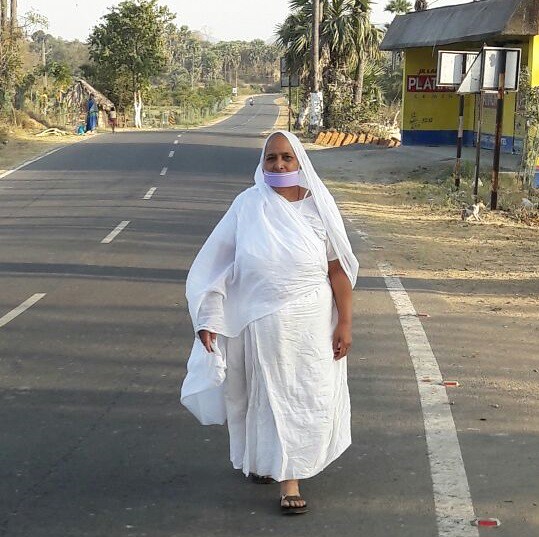 Sadhvi Puneet Prabha on the way to next campsite


On 10th Feb we returned back to home after the arrival of a 13 member new team which looked highly excited and fresh.