Since shape of the body resembles a bow this asana is called Dhanurasana. Spine is curved like a bow and hands resemble a bowstring.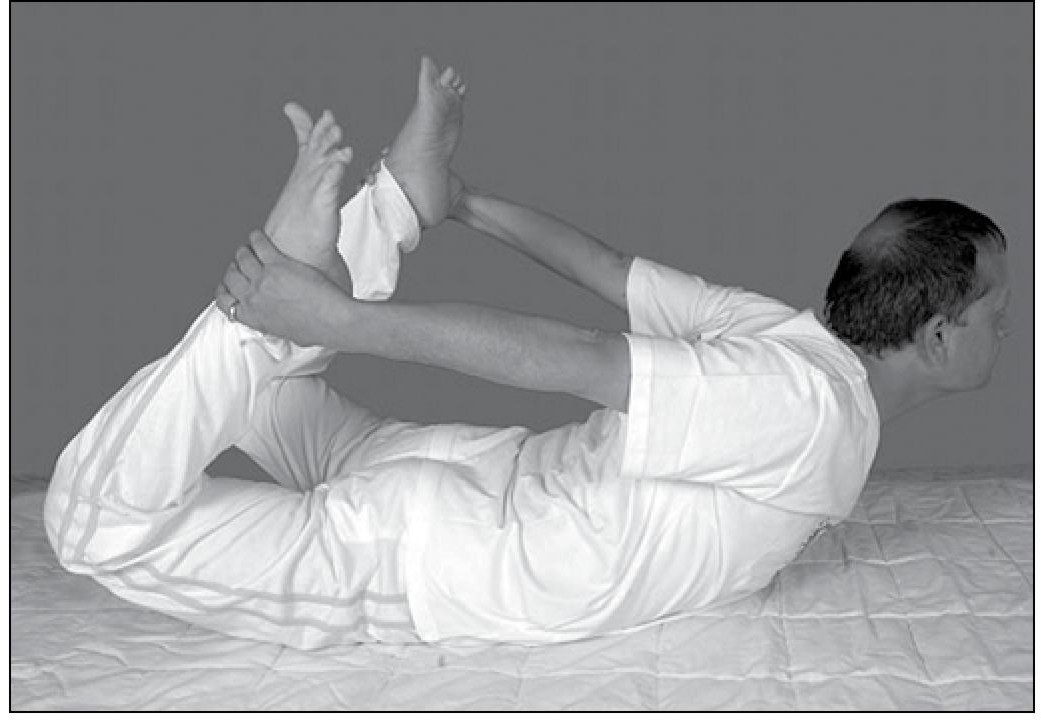 Dhanurasana (Bow Posture)
Method
Lie down flat on your stomach. Place your both hands by side of your body.

Bend both knees and bring heels as close to buttocks as possible.

Take your hands back and hold ankles tight with hands. While inhaling lift neck, shoulders, chest and thighs off the floor.

Breathe normally while holding position.

While inhaling straighten legs. Breathe out and relax.

While performing this asana, knees, thighs and chest remain off the floor. Whole body rests on abdomen.

Duration
Initially this asana should be practiced for 30 seconds and then gradually time can be extended up to 3 minutes. Take a deep breath in while holding ankles and stretching legs and exhale a few seconds later. To experience pleasantness in stretch and a sense of freshness after asana, a minimum of one week's practice is required.

Precautions
The patients of hernia, heart ailments, ulcer, prostate, high blood pressure are advised to avoid practice of Dhanurasana.

A person with abdominal complaints or splenic enlargement should not attempt Dhanurasana.

Effect on Health
There are a few similarities in Dhanurasana and Shalbhasana. Both asanas are of a great importance for overall development of the body. With practice of Dhanurasana spine becomes strong and flexible and fat around neck and waist also vanishes. Along with neck, shoulders and back, arms also experience a stretch making them strong and shapely.

Practice of Dhanurasana brings with it, benefits of Bhujangasana and Shalbhasana. It strengthens the functioning of liver, spleen, kidneys, stomach and intestines. Body experiences a number of disturbances due to a displaced navel. This asana helps in bringing navel back to its normal position. Body remains healthy and happy.

Dhanurasana particularly influences the adrenal, pancreas, thymus and thyroid glands. The Pancreas is responsible for secretion of insulin, which maintains sugar level in the body. Inadequate levels of insulin could trigger off diabetes. Practice of Dhanurasana not only keeps the pancreas healthy but has also proved to be effective for
diabetics.

Other Benefits
With regular practice of Dhanurasana, muscles of legs and hands become strong. The disorders because of navel displacement are cured. It also strengthens all organs of chest and abdomen. Weight problem vanishes as accumulation of fat disappears. Practitioner's complain of constipation comes to an end.