Centre of Jaina Studies Newsletter: SOAS - University of London
---
I t was, of all places, at the 2008 Toronto Tamil Studies Conference that Anne Monius from the Harvard Divinity School and the author of these lines met on a panel and thought: what a surprising and yet typical place to meet for people in Jain Studies! Indeed, scholars in our field based in Canada and the US usually come together only at intimate workshops following invitations or bump into each other between panels, scattered over mega-events, - and only meet regularly if they happen to make it across the pond to London every year for the Jaina Studies Workshop at SOAS. Anne Monius and the author thought to change this by proposing to the American Academy of Religion (AAR) to allow for a Consultation in Jain Studies. Apart from offering a regular venue for an academic exchange the proposed meetings were meant to address issues within Jain Studies such as, in the words of the proposal, "over-regionalization," - i.e. the risks of regional variants becoming representative of Jainism at large-, "foster conversations among textualists, anthropologists, and art historians across disciplinary boundaries" and attempt to rethink "ideas, values and traditions in the colonial and post-colonial eras," while "placing Jain Studies in the broader context of Religious Studies as a whole". The Academy's acceptance of this new Consultation, co-chaired by Anne Monius and the author and including John E. Cort from Denison University and M. Whitney Kelting from Northeastern University as members of the steering committee, resulted in bringing together an international panel whose members (Anne Vallely from the University of Ottawa, who was unable to attend, was dearly missed on the podium) were given space at the AAR Meeting in Montreal 2009 to think aloud about where they see their work within the field, where we as a community of researchers stand and in which direction we might or should be moving.
The gathering could not have started on a more auspicious footing than with L. Alan Babb from Amherst College expressing his happiness about the current state and trajectories of research on Jainism. He pointed at the constant flow of monographs, edited volumes and academically curated exhibitions, at the increasing interest of students, number of courses offered and international summer programmes, but in particular at the generally high standard of research in a field which may not be able, but for the reasons given may not even need, to boast of numbers. And though numbers may not be everything, the sizeable attendance at the discussions of this newly established forum at the AAR helped prove that there is indeed reason for optimism.
As if carried by the initial enthusiasm of these comments the panellists' voices vigorously resonated in the two ways researchers and teachers would usually experience their own and others' work: either through the institutional space of the organization of the field within the academy, addressing issues of formal training, academic trajectories, past programmatic statements and the comparison with related fields, or through the historical distance created by reassessing certain formative events, research enterprises and modes of representation in the development of the field and how these appear and contribute to defining the individual speakers' current research.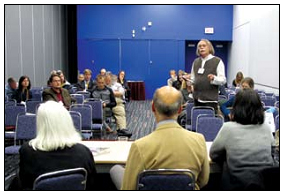 Robert Zydenbos (University of Munich)
Christopher Key Chapple from Loyola Marymount University mapped out the ways he personally would have students engage in a conversation about Jainism both with him as a teacher and with Jains themselves. Developing his own research interests in a way that texts and communities would contribute to dealing with issues of relevance common to North American students led Chapple to work on end-of-life issues, ecology and contemporary forms of yoga, all as perceived and dealt with within the Jain community, allowing for "core religious teachings" to be debated and shared. Visits to local religious centres, the participation in ritual events as well as in international summer schools organized by Jain groups are intended to shift teaching boundaries beyond the classroom, as do the contributions Chapple himself makes to expose Jain teachers to the techniques of ministry and classroom teaching. A sketch of the profile of two junior researchers, Andrea Jain and Smita Kothari, whose progress he has followed, helped Chapple track his perspectives on Jain Studies in emerging academic biographies.
Peter Flügel from SOAS reminded the listeners of earlier attempts by Ludwig Alsdorf (Les études jaina, 1965) and Klaus Bruhn ("Sectional Studies in Jainology", 1991) to either take stock and project future research or to map out and design the field such as to facilitate large-scale planning and to make progress measurable. Particularly Bruhn's calls for much more careful research on the mosaic of geographical regions and places and historical periods and moments (Introduction to Śīlāṅka's Cauppaṇṇamahāpurisacariya, 1961) remain justified while Flügel proposed to shift the focus from looking at differences between Jainism, Hinduism and Buddhism to those between the numerous Jain orders, sects and schools themselves. Weighing the limitations against the openings within the field, Flügel remarked on the limits of fundraising among the Jain communities and the sobering consequences for the possible academic institutional expansion of the field, while at the same time pointing at the role the annual Jaina Studies Workshop at SOAS has had in regularly bringing together the academic Jain Studies community as well as the academically interested within the global Jain community itself for now more than a decade.
Phyllis Granoff from Yale University elaborated on two issues brought up in the earlier comments, on successful teaching and on locating the field among fields by giving us a vivid account of how she herself entered Jain Studies as a young scholar, reminding us all of our own comparable itineraries. Addressing concerns of all academics working on South Asia, she first and foremost stressed the crucial role played by language tuition as the ground on which fields like Jain Studies grow and without which there cannot be any hope of keeping the field alive. Owing to her familiarity with the situation in Buddhist Studies Granoff reminded us that Jain Studies has, particularly in the training of students, so far managed to avoid the pitfalls of its neighbouring field, such as internal fragmentation and isolationism regarding other regionally organized fields which could, to a much stronger degree, be an organic part of the study of Buddhism. In the face of these known dangers, as well as those yet unknown, which could result from a push towards supposedly free-standing "Jain Studies" programmes, Granoff passionately argued in favour of retaining the study of Jainism as an integral part of the larger field of South Asian Studies, safeguarding and fostering its links with literature and linguistics, art, history and anthropology while encouraging students not to neglect the study of the other religions of South Asia.
Paul Dundas from the University of Edinburgh reminded the audience and co-panellists of a meeting in Cambridge in which he had participated in 1985 called "The Jain Community", which eventually resulted in The Assembly of Listeners (1991). Dundas opened a historical vista on vicissitudes of the field between the current meeting and that seminal conference by pointing out what was not dealt with or under- problematized then from the perspective of Jain Studies today. One of the examples he named and in which he situated his own current research interest, is the domain of life cycle rituals, long ago established and increasingly studied in other South Asian religions, but still largely unknown in the case of the Jains. Dundas talked about his work on a unique text dealing with, among other things, funerary rites (other than sallekhanā) for laypeople, the Traivarṇikācāra of Somasenabhaṭṭāraka, a Digambara śrāvakācāra text dated 1610. Quoting this example Dundas discretely called for a much stronger awareness within the field of "multiple Jainisms". His contribution echoed the strong diversification of research on North Indian Jainism generally and seemingly anticipated the comments by Leslie Orr and Lisa Owen and their contributions to the emerging subfield of South Indian Jainsm.
Leslie Orr from Concordia University in Montreal helped us take a look at the roads not or still to be taken as they open to a scholar like herself emerging from the archives of F.W. Ellis and Colin Mackenzie, whose team of Indian and British researchers working in the Madras Presidency, and paralleling the work of Jones, Colebrooke and Wilson, compiled materials that, if not lost or understudied, might have put the study of the Jains of South India as firmly on the map as Tod and Buchanan did for that of those of the Northwest. Particularly the practice of reading inscriptions in isolation from their material and spatial context caused the marginalization of Jain ones in the Prinsep-inspired hunt for the "early" and the "Buddhist" and of temples as "representative" of very specific lines of "heritage". Orr praised current scholarship as consciously reversing these trends and sees as its greatest promise its engagement with Tamil Jain communities and their histories, both local and universal, as if echoing Mackenzie's early sensibilities.
Similarly Lisa Nadine Owen from the University of North Texas led by the justified suspicion that Jain art today remains underrepresented in art history, combed through the papers presented at the meetings of the College Arts Association (CAA) as well as recent representative monographic overviews of South Asian art. Apart from revealing low paper counts, Owens showed Jaina art to be woven into and out of and supporting a master narrative of South Asian art that speaks of the peripheral role assigned to Jain imagery, artefacts, and practices - almost one and a half millennia of told and untold art history lie between the recurrent mentioning of Jainism around the time of the Buddha and the eventual reference to 11thcentury temple architecture at Mt. Abu and 15th-century Kalpasūtra illuminations. Owen's powerful appeal that art history may profit from a greater engagement with the Study of Religion, which in itself has undergone dramatic transformations in its engagement with material culture, economic history, visual and performance studies brings us back to L. Alan Babb's opening: the seemingly full circle to which the panel was brought, may show us how a certain unease and a certain enthusiasm, felt within the same field, may be mutually beneficial
On that note, Steven M. Vose, a doctoral candidate from the University of Pennsylvania, and about to set off for Rajasthan, allowed the public and panellists to get a glance at what it is like for a graduate student to make one's way into the field these days. He voiced all the advantages of studying in a small, dynamic and vibrant field and the strength of that melange of openness, intimacy and interdisciplinarianism which is typical of such research communities. It may have been Vose's final contribution to the panel discussion that encouraged both the panel and the audience in the concluding discussion to problematize teaching methodologies, argue for a place of higher-level courses with Jain topics, strongly voice demands to a stronger commitment by academic institutions to language instruction, particularly of Sanskrit as well of Prakrit and regional South Asian idioms. Though it did not remain unquestioned the public seemed to share Phyllis Granoff's view that Jain Studies can only profit from remaining an integral part of strong South Asian Studies programmes.
The Consultation will resume this autumn. Proposed as possible topics are to discuss Jains in relation to Hindus and/or Buddhists, gender in Jain thought and/or practice, Jain monasticism/asceticism, teaching Jainism in the classroom, varieties of Jain tantra, and a discussion of a recent monograph relevant to Jain Studies. The number of offers for collaboration with other already firmly established so-called "Groups" at the AAR extended to us after this first meeting show that there might be more to this new regular event on the modest Jain Studies conference circuit than only a further occasion for North American Jainologists to meet. Instead of adding one more sectarian tear to the tissue of South Asian religious polytrophies through the continuation of identity politics by academic means, as the Sanskritist Steve Lindquist pointed out in the discussion, it may be an opportunity for Jain Studies to take on the challenge and help promote and strengthen the field of South Asian Studies as a whole.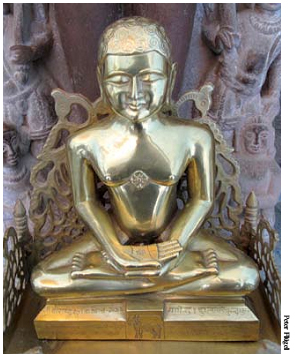 Metal statue of Ṛṣabha, Digambara temple, Deogaṛh
Christoph Emmrich is Assistant Professor of South and Southeast Asian Buddhism at the University of Toronto. His research centres on practices involving girls and fruits among the Newar Buddhists of Nepal, monastic networks between Nepal and Burma and the connections between ritual literature and local history among Tamil Digambara Jains.