Indian sacred geography specifies two regions of the human world: the aarya and the anaarya. The aarya lands are the places where the higher spiritual way of life is practised, while in the anaarya regions, more materialistic forms of society prevail. These traditional texts regard a large part of India as aarya and the rest of the world as anaarya, but for the purpose of our discussion here, we call India as 'home' to the Jains and other countries as 'abroad'.
Jain history records how, in the past, prominent personages travelled abroad, often as missionaries to disseminate Jain teachings: Aacaaryas Bhadrabahu and Sthulabhadra both travelled to Nepal; Kalyan Muni left India with Alexander the Great and journeyed throughout the Greek Empire; Kalakaacaarya II travelled to South East Asia, while Vajraswami visited other parts of Asia, and King Samprati sent missionaries to promote Jainism. For many centuries, Jain traders have ventured abroad and acted as 'ambassadors' for Jainism through their distinctive lifestyle. The trading communities were the first emigrants, but little is known about these settlers, although some remnants of Jain culture are found in Asian lands, and in Greece, Russia and elsewhere.
A later wave of Jain migration began in the second half of the nineteenth century. With economic opportunities becoming more available in British colonial territories, many Jain families moved abroad, mainly to East Africa, seeking to improve their standard of living. They settled in large numbers in Zanzibar, Tanganyika, Kenya, Uganda, South Africa and Fiji. Zanzibar saw the establishment of the earliest Jain community in Africa, and two beautiful temples were constructed, but fear of persecution forced many Jains to leave Zanzibar and migrate to other parts of East Africa. In time, they established substantial and characteristically elaborate temples in places such as Mombasa, Nairobi and Dar-es-Salaam, and created other institutions such as upashrayas (meeting halls for religious observance) and paathasaalaas (daily religious schools for children). The temples at Mombasa and Nairobi have become major places of pilgrimage as well as tourist attractions. The Jain community is widely regarded as enterprising and hardworking, their ideals of a simple life and philanthropy have led them to contribute to the education and welfare services for Jains and non-Jains alike. They have become active in trade and in practically all the important professions in the countries where they have settled.
The twentieth century has seen increasing migration of Jains to 'the West', including Jain preachers and teachers, but migration from India to Africa and Asia also continued. From about the turn of the century onward, important preachers who travelled to the West included persons such as Virchand Raghavji Gandhi, Campatray Jain and J.L. Jaini. As we have already noted, Virchand Gandhi established two Jain societies in the United States and a Jain literature society in the United Kingdom (which closed for lack of resources). Campatray Jain and J.L. Jaini contributed to this society in its early days, and also provided Jain literature for the public library at Bad Godesberg in Germany, support which still continues through the World Jain Mission in Aliganj, India.
There has been Jain migrants to the United Kingdom from India and East Africa, almost all in the second half of the century, and eventually, communities became organised in major urban centres, including London, Leicester, Manchester and Birmingham. It is estimated that there are about 30,000 Jains in the United Kingdom, approximately 25,000 in London, 1,000 in Leicester and 500 in each of the cities of Manchester and Birmingham. By the mid-1990s, the community could muster 28 organisations, three of which are of particular importance: the Jain Samaj Europe, the Oshwal Association of the United Kingdom and the Navnat Vanik Association (UK). The Young Jains have also organised themselves and are working to promote Jain values, including vegetarianism.
Typical of Jain activity in the United Kingdom since the 1980s, is the establishment of places of worship and community activities. The Oshwal Association has established an Oshwal Centre comprising a temple and two modern purpose built halls with dining facilities, in an attractive setting at Potters Bar, Hertfordshire, just north of London. The Navnat Vanik Association has acquired a communal property in Harrow, close to areas where large numbers of Jains reside. The Jain Samaj Europe has established a Jain Centre in the city of Leicester. This centre is a major symbol of Jain unity, the first centre of its kind to embody co-operation among Jain groups by including in one building a Svetambar temple, a Digambar temple, a Guru Gautam mandir, a Sthanakvasi upashraya and a Shrimad Rajchandra jnaan mandir and an educational beautiful museum. Its fine Jain architecture, including elaborate interior and exterior carvings, has made it a major tourist attraction and place of pilgrimage for Jains. The Jain Samaj Europe has published books and a journal on Jainism. Jains are seeking to widen their activities through the creation of 'inter-faith' links such as the Jain-Christian Association, the Jain-Jewish Association and the Leicestershire Ahimsaa Society for the Care of Nature.
Jains are increasing their involvement with academic institutions through the Jain Academy, founded in 1991. The 1994 academic year saw the launch of the first undergraduate courses offered as part of an U.K. University degree programme. Based at the De Montfort University in Leicester, students are able to pursue studies in Jain history, literature, languages, society, philosophy and religion. The Jain Academy has also taken its first steps in forging international links and a 'Jain Academy Educational and Research Centre' has been established in the Department of Philosophy at Bombay University.
Plate 2.2 Jain Centre Leicester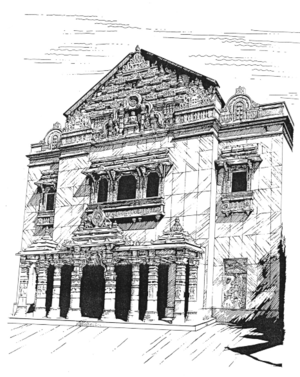 Plate 2.3 Pro Vice- Chancellor of De Montfort University receives Jain Texts for University library from the officials of Jain Academy.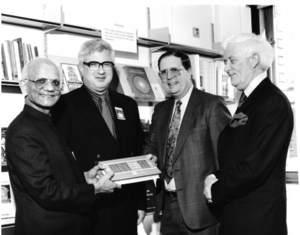 Plate 2.4 Dr L.M. Singhvi, High Commissioner of India in the U.K., inaugurates the Jain Academy Education and Research Centre at Bombay University, in December 1995. With him are vice-chancellor of Bombay University and the Chairman of the Jain Academy.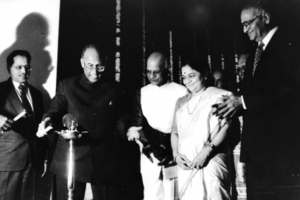 Jains have been involved in the production and trade of gemstones and jewellery for centuries. It has led Jains taking an active role in the modern international gem and diamond trading community, with Jain diamond dealers in London, New York, Antwerp, Tel Aviv, South Africa and India. Jain diamond traders have won major export awards both in India and Israel. Jain scholars are made welcome in these places, and these unique 'niche' business communities are actively involved in philanthropic work.
Jain Associations exist in Germany, and many Jain scholars have visited and given lectures in its universities. A number of Germans have adopted the Jain way of life.
Jains have also migrated to Australia, and a Jain Society has been formed in Sidney. Japan has a Jain community in Kobe, with its own Jain organisation and a magnificent temple. There are Jains in Hongkong, Bangkok, Singapore, Nepal, Pakistan, Bangladesh and other places in Asia. Jains are found in the Middle East in countries such as Aden, Dubai, Egypt and Israel, but at the time of writing, restrictions in many Islamic countries prevent Jains, and members of other non-Muslim religions, openly practising their religion.
After the Second World War a large number of Jain professionals, academics, business people and students travelled to the United States of America and Canada, where many eventually settled. By the mid-1990s, it was estimated that there were more than 50,000 Jains in North America. Jains have established 55 Jain societies and Jain Centres, some include temples, for social, religious, youth and women's activities, involving worship, lectures and discussions, festivals and rituals, performing arts, such as dance and drama on religious themes. To co-ordinate the activities of the various Jain centres in North America, Jains established in 1981, the Federation of Jain Associations in North America, which had more than 6,000 participants in their ninth bi-annual convention in 1997. North America has also seen academic, literary, Internet and youth activities to promote Jain way of life.
The Jain migration abroad has brought Jainism to the attention of the world outside India; Jains have settled extremely well in many places, but are anxious to retain and promote their culture and way of life. There are, however, only two of the four orders of the sangha outside India: laymen and laywomen, because the vows of the ascetics would not permit them to use a vehicle to travel. A project a few years ago for a leading Jain ascetic to travel on foot overland to Europe had to be abandoned owing to unforeseen circumstances. Thus, the guiding force of the orders of ascetics is absent outside India and this has provided both a challenge and an opportunity for Jains to consider the implications for the modern Jain 'diaspora' and the future forms of the sangha.