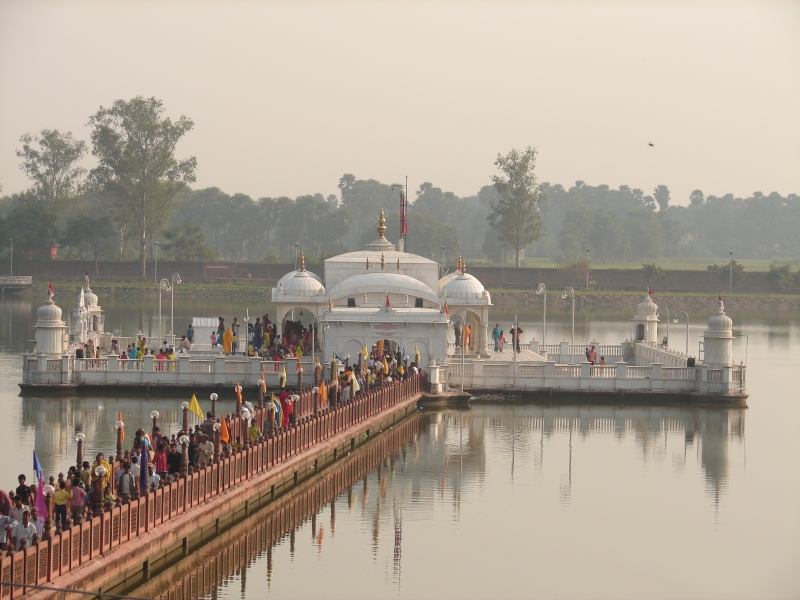 Jal Mandir at Pawapuri
According to Jain tradition, Pawapuri was the place where Mahavira attained "Nirvana" or eternal salvation from the cycle of death and birth. Jal mandir as the name suggests is a temple in the middle of a lake blooming with lotuses. The main deity of the beautiful temple is a very old "Charan Paduka" of Lord Mahavira. It marks the spot where the mortal remains of Lord Mahavira was cremated. It is believed that this temple was built by King Nandivardhan, elder brother of Lord Mahavira.

Jal Mandir is built in the shape of "Vimana" and there is a stone bridge about 600 feet in length across it from the bank to the temple. According to the legend, the concourse of the people who attended the funeral ceremony of Lord Mahavira, was so large that the mere act of their taking a pinch of ashes created such a big hollow over the place that it transformed into present tank.
Name:

Jal Mandir

Location:

Pawapuri

Dedicated to:

Mahavira

Adress:

Shri Jain Swetambar Bhandar Tirth,
P.O. Pavapuri - 803115, District Nalanda
Bihar, India

Phone no.:

06112 274736

Website:

www.pawapuritirth.org
---